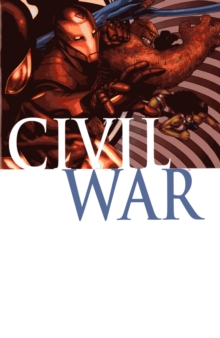 Information
Format: Paperback
Pages: 196 pages, 1 Illustrations, unspecified
Publisher: Panini Publishing Ltd
Publication Date: 24/04/2007
Category: Superheroes
ISBN: 9781905239603
Free Home Delivery
on all orders
Pick up orders
from local bookshops
Reviews
Showing 1 - 3 of 3 reviews.
Review by Warnerp
16/06/2015
Amazing Marvel artwork blends with a modern, mature, post-911 storyline of paranoia, and there is a brilliant comparison between images of the 1800s Civil War and this modern one of superheroes on two sides.
Loved this. This is the Marvel movie I want to see. Super-heroes taking sides and thrashing the living daylights out of each other. It's a great story in that I started reading it doubtful that I would end up picking a side, but I <I>so</I> did. <br/><br/>I totally understood where Tony was coming from and his motivation and drive was very characteristic of him. What surprised me was that I totally and utterly sided with Captain America, a character of whom I have never really been a fan. <br/><br/>What surprised me even more was that I felt quite bad for Spidy, a comic book character that I've never really warmed to (despite loving the cartoon as a kid). I thought the Tony/Steve drama was awesome, as well as the sad and inevitable conclusion to it.<br/><br/>I do hate that the story felt a little open-ended though. I kind of read the last page and thought 'What? Where's the rest?' Maybe a few more pages would have been nice, like a prison cell chat between Steve and Tony. <br/><br/>Even so, what an enjoyable story this is.
Review by shanaqui
16/06/2015
The problem with the Civil War arc in Marvel comics is the sheer amount of stuff you have to read to get the full story. I mean, my main interest lies with Cap and Iron Man, and the Young Avengers, but while they're main players here there's a lot going on both for them that isn't in this collection, and stuff going on without them <I>in</i> this collection. I don't know much about the Fantastic Four or Daredevil, and it's a little awkward to jump in.Nonetheless, this is a pretty amazing crossover event, and the ending is amazing -- the way Steve takes his mask off and just, aghhh. I don't know whether to hope they incorporate this into the MCU or not.One thing I would've liked would've been to see Hulkling just a bit more concerned about his boyfriend being in prison. I don't know if that shows up in the Runaways/Young Avengers crossover Civil War comic, but given the strength of their concern for each other in the Young Avengers comics, it feels a bit weak.