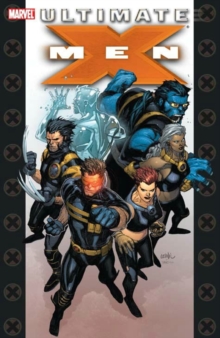 Ultimate X-men Ultimate Collection - Book 1
Paperback
Information
Format: Paperback
Pages: 336 pages, 1 Illustrations, unspecified
Publisher: Marvel Comics
Publication Date: 29/03/2006
Category: Superheroes
ISBN: 9780785121879
Free Home Delivery
on all orders
Pick up orders
from local bookshops
Reviews
Showing 1 - 2 of 2 reviews.
Review by schatzi
16/06/2015
As a comics n00b, I was intrigued by the X-Men, but I just wasn't sure if I could jump into the story without feeling completely lost. And then I found the Ultimate Universe, which allowed me to sample the characters without feeling overwhelmed. Of course, there are differences here between the Ultimate X-Men and their 616-verse counterparts. Most of the X-Men are teenagers (excluding Professor X and Wolverine, of course), and the original team is different. There are also different problems. Still, it does give a good basic overview for the X-Men n00b, while proving to be entertaining for people who are more familiar with the characters too.
Review by catfantastic
16/06/2015
I greatly enjoyed the first volume of the 'Ultimate Fantastic Four' series, so I was looking forwards to 'Ultimate X-Men,' but this was extremely disappointing. Our heroes are by turns asinine, callous and shallow - and ridiculously over-powered. For example: Professor Charles Xavier. Other characters keep <i>telling</i> the reader how wise and benevolent and what a great man he is, but all the reader is <i>shown</i> is a man who has absolutely no qualms about using his psychic abilities to mentally violate the thoughts and perceptions of - well - everyone! The phrase 'mad with power' comes to mind as we learn every non-mutant employed at the school is being brainwashed by Xavier, as well as random people walking down the street, because, like Hogwarts, the school is invisible to anyone not an X-Man. Even his own students aren't safe from having their thoughts, feelings and memories messed with to suit Xavier's whims. Xavier apparently spends all his time dressing his students up in sexy leather costumes and hijacking the brains of the most interesting people in the world for entertainment. Also, he gives the students unlimited credit cards so they get to stay at really posh hotels, buy $15,000 dresses and appear on Japanese talk shows. Excuse me while I roll my eyes.Magneto doesn't seem so bad compared to all this, especially as the reader is only <i>told</i> that the Brotherhood of Mutants does bad things, the only time Magneto is shown taking action in the comic is when the army launches a troop of sentinels at his island to destroy him. This problem is easily fixed when, with a wave of his hand, Magneto reprograms the entire army of sentinels sent to destroy him to kill all humans.Evidently the X-Men weren't cool enough, so for the Ultimate line Marvel jacked up everyone's powers to the point where incredulous becomes ridiculous becomes really kind of embarrassing. Watching Jean and Xavier perform surgery by telepathically hijacking a genius surgeon two town's over doesn't make me regard them with awe - it makes me want to hit them with a truck! Even the artwork is far below the quality I was expecting based on all the glowing reviews I've read. The incredibly over muscled men, and girls with huge boobs dressed as hookers, make this look like the cheesiest of 90's comics. Apparently the series improves with time, but I don't feel like investing any more in it - I'll be looking for the collections of the original <i>Uncanny X-Men</i> comics instead.