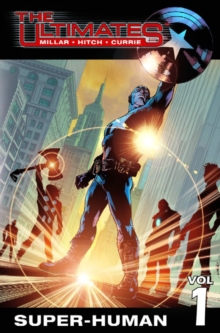 Ultimates Vol.1: Super-human
Paperback
Information
Format: Paperback
Pages: 160 pages, 1 Illustrations, unspecified
Publisher: Marvel Comics
Publication Date: 01/08/2002
Category: Superheroes
ISBN: 9780785109600
Free Home Delivery
on all orders
Pick up orders
from local bookshops
Reviews
Showing 1 - 5 of 5 reviews.
Review by ragwaine
16/06/2015
I read this so fast I didn't get a chance to post it in my currently reading list. I liked it but I also just saw the Avengers animated movie a couple months ago so there was some extreme deja vu. This is a new, origins of the Avengers so not a lot happens other than the group forming. But there are some real cool things in it. First off this was written around 2002 and Nick Fury is black and looks a lot like Samuel Jackson. Then he says, "when they make the movie the only person that could play me is Samuel Jackson." Which, if you watched all the credits in the Iron Man movie, turns out to be a prophesy fulfilled. Also Thor turns out to be a total anti-corporate activist hippy instead of the haughty, holier than thou hero we're used to. The Avengers was always one of my favorite comics growing up so I may end up reading more of these if I can get them. I'm hoping to see Hawkeye (he is mentioned) show up and I'd like to see what they do with the Wonder Man story line that I only slightly remember from way back when.
Review by schatzi
16/06/2015
When I'd first read this trade, I'd known practically nothing about the 616verse Avengers or their formation. I still loved these comics, but now that I've read the first several issues of the Avengers title, I love the book even more.Mark Millar takes the Avengers team and updates them for a more modern time. Captain America is still frozen in a block of ice, Iron Man is still dealing with a health problem that threatens to end his life prematurely (although it's not his heart this time), and the Hulk is still a founding member of the team before the Avengers have to unite against him. So old-time fans of the Avengers will probably enjoy all of the little nuggets of history that have been fashioned to fit into the Ultimate Universe. And for those who are new to comics, it's a great jumping-on point for them. I think that Millar does a great job of fleshing out the team members, especially Captain America.And there is, of course, Bryan Hitch's awesome artwork to accompany the story. Artwork can make or break a good plot, and Hitch's art makes this "good story" a great one. His faces are especially great - expressive, realistic, and distinctive. He captures the characters wonderfully.
Review by TPauSilver
16/06/2015
This books is interesting in many ways. It's basically a parallel of the original avengers origin story, but modern. By modern I do of course mean horribly dark. This is a book that's trying to hurt you, it isn't your friend. Bad things happen to people. It's interesting how many of the parallels they've kept and how they'd manipulated them. Even without the mirroring of the original Avengers story this is an interesting book. It is dark and 'edgy' but it's also emotive and I thought the pace was very good. Well worth a read.
Review by sweetiegherkin
16/06/2015
Nick Fury gets the funding and the staff to assemble a group he calls "The Ultimates," a variety of super- and costumed heroes that he hopes will be able to fend off any threats beyond the capabilities of military force. Gathering together Iron-Man, Bruce Banner, the Wasp, and Giant Man, Fury's next big move is to tempt Thor to join the group. While the public questions the need for the Ultimates, their first super-villain turns out to be one of their own ranks.This was an entertaining, light and short read that had a good balance of action and backstory in the narrative. The artwork was well done and helped pull the reader in further. While I don't generally care for crossover comics, this is an example of doing that well -- the point of the book is that it's bringing together heroes from various lines, not a Green Lantern comic where Spider-Man makes an appearance just because. If I had a major criticism of this book, it seems like this story has been told already, especially given the recent Avengers blockbuster hit (although it's not really fair to ask a book from the past to compete with something in its future). The real downside of the book was the weird and bizarre domestic violence outburst between Hank and Jan Pym at the end of the book. This was purportedly the "hook" to draw readers in to Volume 2, and it did nothing for me but leave a bitter taste in my mouth and pretty much guarantee that I won't pick up the next book in the series.
Review by greeniezona
16/06/2015
**trigger warnings for anti-woman violence. Because yes, this book is that classy.**<br/><br/>So, I'm kind of obsessed with <i>The Avengers</i> movie. And though I've long shied away from superhero comics, it seemed like maybe this was a good time to give them a shot. But where to start? I spent a good amount of time hunting online for some kind of guide to the Marvel universe. Finally, I found an article that seemed to be just what I was looking for -- a "if you loved <i>The Avengers</i> movie, try these comics..." sor of thing. It recommended this.<br/><br/>It was horribly, horribly wrong.<br/><br/>Okay, think what you want of Joss Whedon. But he is explicitly feminist. Sure, he doesn't get it right 100% of the time (who does?), but he's <i>always trying</i>. His dialogue is sharp, intelligence is respected rather than made the butt of jokes, and he does ensembles really well. <i>That's</i> what I was looking for in a comic, but that is <i>not</i> what this is.<br/><br/>You know, I actually mostly enjoyed this book while I was reading it, but the more time went by, the more I thought about it -- the less I liked it. Now I pretty much detest it. Let's start with the feminism, shall we? Not counting Captain America's elderly ex, there are two female characters in this book. Betty, who is (here), a self-centered bitch who thinks it's a <i>compliment</i> when The Hulk tries to rape her and kill her dinner partner, and Janet Pym, who starts out promising, but then evidently ends up making out with Captain America in front of photographers, prompting a psychotic rage from her insecure husband, who then maybe almost kills her at the end. <br/><br/>Awesome.<br/><br/>As for the smart, even though throughout this volume, people keep expressing supposed concern for Bruce Banner's tendency to Hulk out, the whole volume is basically a textbook pressure cooker for poor Bruce. And at no point does <i>anyone</i> ever stop and say, you know, maybe we should be nicer to Bruce. Take a little pressure off. Give him the occasional compliment. If for no other reason than if he gets angry he could kill us all/destroy the entire island of Manhattan/completely undermine everything we've been working for. <br/><br/>You know, I get the whole thing of portraying your "superheroes" as flawed characters, warts and all, but the only character I even <i>liked</i> at the end of this was Thor, who was pretty full-on awesome, all the time, even if he's maybe not really a god in this 'verse.<br/><br/>Anyway, I'm not at all interested in reading any more of this. Giving up on superhero comics a little longer.