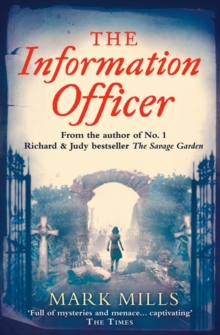 The Information Officer
Paperback
Description
From the No. 1 bestseller and author of Richard & Judy pick The Savage Garden: an atmospheric world war two crime thriller for fans of Carlos Ruiz Zafon and Jed Rubenfeld "You want to know who I am?
I'm the last living soul you'll ever set eyes on" Summer, 1942.
For the people of Malta, suffering daily bombing raids, the British are the last line of defence against the Nazis. And it is Max Chadwick's job as the information officer to ensure the news the islanders receive maintains morale. So when Max is given proof suggesting a British officer is murdering local women, he knows the consequences of discovery are dire.
With the violence on the war-ravaged island escalating daily, he embarks on a private investigation, hidden from the eyes of superiors, friends and the woman he loves. But Max finds himself torn between patriotic duty and personal honour in his efforts to track down the killer... an elusive figure always one step ahead of his hunter.
Information
Format: Paperback
Pages: 416 pages
Publisher: HarperCollins Publishers
Publication Date: 30/04/2009
Category: Crime & mystery
ISBN: 9780007276882
Other Formats
EPUB from £4.99
eAudiobook MP3 from £16.76
Free Home Delivery
on all orders
Pick up orders
from local bookshops
Reviews
Showing 1 - 5 of 14 reviews.
Previous | Next
Review by MzCaledonia
16/06/2015
I was a bit disappointed with this book since I really enjoyed The Savage Garden. I found it really slow and it didn't live up to its description. While it was a fascinating account of Malta during the war, the murder storyline seemed lost in there somewhere.
Review by WoodsieGirl
16/06/2015
I actually didn't get more than a couple of chapters into this book - really unusual for me, I hate leaving a book unfinished, even if I'm really not enjoying it. I even ploughed my way through the Da Vinci Code, and that was painful. Thing is, I don't think this book is actually that bad. I'm certain I've read worse. I just couldn't get into it. I suppose what it came down to for me was that none of the characters felt like real people, so I found it impossible to care about what happened to any of them. They all felt two-dimensional, especially the killer. The dialog was flat, and the female characters in particular just read like lazy, pulp-fiction cliches. It's a shame because I think the idea had potential, and I've heard good things about Mark Mills generally, but on the evidence of this book I don't think I'd bother with his writing again. Life's too short for bad books.
Review by kathy_h
16/06/2015
i have slogged about halfway through this book, and i'm just giving up. i simply cannot get excited enough about it to find out whodunnit. i don't care about malta, i don't care about the war, i don't care about the characters. i really enjoyed mills' amagansett...loved the characters and thought he did a great job of evoking a sense of place. and the mystery was pretty darn good, too. clearly, mills has done extensive research, but it's not enough (or maybe it's too much) to save "the information officer." there's nothing thrilling about it. it's even difficult to distinguish when he switches characters...the first time he did it, i didn't even realize it until the second switch, and had to go back and read the first switch chapter again. B O R I N G.
Review by sjmccreary
16/06/2015
Part war story, part murder mystery, this book is set on the Mediterrean island of Malta during World War 2 when it was still controlled by the British. Max is the British Information Officer - the man whose responsibility it is to report the official version of the war news to the island's residents. When his friend Freddie, an over-worked medical officer, confides that several recently killed local women were not victims of air raids as presumed, but were murdered he is distressed, but believes that it is no real concern of his. However, when Freddie presents evidence that indicates that the killer may have been a British officer, suddenly Max has a problem. In the midst of the fiercest bombing anywhere during the war, he is expected to do whatever is necessary to keep up the spirits of the Maltese people. If they were to learn that they had as much to fear from the British as from the Germans and Italians, the results would be disasterous. Not knowing who he can trust, Max must determine the identity of the killer and stop him before he strikes again.The murder mystery could have been better developed, it is not strong enough to stand on its own. I felt the book was more of a story about the determination shown by the Maltese people when they were being subjected to daily, sometimes twice daily, bombing raids by the Italians. Despite terrible destruction, as soon as the all clear signal sounded, people emerged from their shelters and resumed their lives. Lives which were hampered by shortages of food, fuel, and ammunition. They took pride in the wiliness of the submarines based there and their successes, and were in a constant state of expectation of more airplanes to replace those destroyed by the constant bombings. This part of the story was very interesting, and made the book worth the effort.
Review by dudara
16/06/2015
Mark Mills, author of The Secret Garden, has once again drawn on the history of World War II for his latest novel, The Information Officer. It's 1942 and Malta is under daily barrage from the Germans and Italians. A resolute band of English soldiers help the local Maltese protect the island and live day to day.There's a delicate balance to be maintained between the English and the Maltese and Max Chadwick plays a part as the British Information Officer. When a friend brings a recent murder of a local hostess to his attention and the apparent involvement of a British submariner, Chadwick realises that this could disrupt the accord between the British and local Maltese. Despite being warned by the top brass to stop investigating, Chadwick continues to dig, uncovering evidence of Nazi spying and subversion.Mills magnificently recreates the atmosphere of an island under constant aerial attack and attention to historical detail is excellent. However, it feels a little like mystery by rote, and the final revelations just don't ring true. The story just isn't memorable.