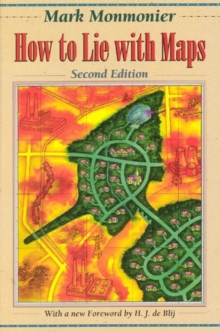 How to Lie with Maps
Paperback
Description
Originally published to wide acclaim, this illustrated essay on the use and abuse of maps teaches us how to evaluate maps critically and promotes a healthy skepticism about these easy-to-manipulate models of reality.
Monmonier shows that, despite their immense value, maps lie.
In fact, they must. The second edition is updated with the addition of two new chapters, 10 color plates, and a new foreword by renowned geographer H.
J. de Blij. One new chapter examines the role of national interest and cultural values in national mapping organizations, including the United States Geological Survey, while the other explores the new breed of multimedia, computer-based maps.
To show how maps distort, Monmonier introduces basic principles of mapmaking, gives entertaining examples of the misuse of maps in situations from zoning disputes to census reports, and covers all the typical kinds of distortions from deliberate oversimplifications to the misleading use of color.
Information
Format: Paperback
Pages: 222 pages, 10 colour plates, 7 halftones, 111 maps
Publisher: The University of Chicago Press
Publication Date: 11/04/1996
Category: Place names & gazetteers
ISBN: 9780226534213
Free Home Delivery
on all orders
Pick up orders
from local bookshops
Reviews
Showing 1 - 4 of 4 reviews.
Review by slothman
16/06/2015
A worthy successor to the classic <i>How to Lie with Statistics</i>. Monmonier begins by pointing out that all maps, by necessity, tell lies, and proceeds to show us the different techniques of abstraction that can be used effectively to represent the truth-- or subverted to deceive the unwary. Most of the examples are quite clear, though toward the end of the book they begin to become more abstract and less gripping.
Review by paulsikora
16/06/2015
The book begins with the provocative and true statement that all maps lie--because all maps are of necessity simplifications of the things they represent. Mr. Monmonier then explains how to identify, understand, minimize and use the limitations to make more effective use of maps and the rhetorical opportunities they can provide. As the classic "How to Lie with Statistics," "How to Lie with Maps" is essential for anyone who does not wish to be deceived and who wishes to use the subject tools both honestly and effectively.
Review by le.vert.galant
16/06/2015
Great insight into how maps are inherently deceptive. There are some good reminders about errors due to binning. A bit dated w.r.t. digital maps.
Review by Cheryl_in_CC_NV
16/06/2015
Fascinating & important subject, told in the most boring voice possible. After the beginning, covering the difference between a globe and a flat projection, I learned a lot. But it was a slog. Does anyone know a better book on the subject?