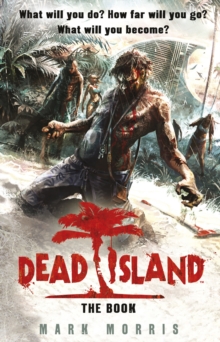 Description
What will you do? How far will you go? What will you become? Welcome to Banoi, a tropical island where you can leave the stresses of the world behind...Welcome to the Royal Palms Resort - which offers its guests from around the world the ultimate in luxury and relaxation...Welcome to the holiday paradise where your dreams should come true...but where a nightmare is about to begin...because a mysterious epidemic has suddenly, and without warning, broken out across the island.
The local islanders, hotel guests and workers alike are struck down - only to rise again, craving the flesh and the blood of the still living.
For four of the holidaymakers and a handful of others scattered around Banoi who are seemingly unaffected by the plague, they must face the awful, terrifying reality of a zombie apocalypse.
Now there is only one thing left to do: survive. Welcome to Dead Island...a paradise to die for.
Information
Format: Paperback
Pages: 336 pages
Publisher: Transworld Publishers Ltd
Publication Date: 01/09/2011
Category: Horror & ghost stories
ISBN: 9780857501035
Free Home Delivery
on all orders
Pick up orders
from local bookshops
Reviews
Showing 1 - 1 of 1 reviews.
Review by littleton_pace
16/06/2015
This one caught my eye because it was/is originally a PC game of the same name. Even the cover is the same. It made me borrow it just to see how the heck they turned a game into a story. Having sucked majorly at the game and not able to get out of the resort, I was excited to read the book to see if it shed light on the game. Of course, having not finished the game I don't know what's accurate. Maybe I'll try the game again on the lowest level of difficulty.Anyway, onto the book. I quite enjoyed it! When people say "fast-paced" this is the kind of thing they mean. Constantly moving, always a new obstacle to overcome. There really is very little time to stop and process what's happening. There are some references to the game that I quite liked, for example there's a conversation where the survivors are told to use weapons created from anything they can find, which reminded me of the game since you use oars, axes, sticks, whatever is handy at the moment. One thing I didn't like was the frequent comparisons to a zombie movie. It's a personal issue I have with novels, I don't like it because it almost seems to make light of the situation and remove you even further from the action. If the characters are treating it like a movie, why should I be any more invested? Similarly, every plot twist is brought up by the characters so there are few actual revealing moments where theories come together. For example, all the lead characters were given the free trip to this holiday island because they donated blood and won a sweepstake or something, so extremely early on in the novel this spurs on one of the lead characters to assume that means they are all immune to the zombie virus and were sent to the island in anticipation of the outbreak. It just threw me off a bit, one of the things I like about novels is questioning what's happening myself and having my own theories. Another thing that bugged me, as it always does. Women are weak, screaming and frail. The only strong woman is Purna, a hard as nails bitch with heavy police/army training perpetrating the theory that the only way a woman could be strong is if she had been prepared for most of her life for a disaster scenario. Meanwhile, men are just excellent in the situation from the get-go. One part that annoyed me greatly was when our main group of five decides they have to go into the jungle to a village in search for help for a vaccine. Instead of taking the woman who can translate and speak the language (the only person in the group who can), they leave her behind with another woman and the hard-ass Purna and two men go on the trek and, of course, struggle with a language barrier when they get to the village. Time and energy could have been saved by bringing the appropriate character along, and if she were male I would assume she would have been there, but she's a young girl so she stays behind.Anyway despite all my issues with it - which I'll admit are a personal taste thing rather than technical issues. Although there is a heavily lame/cliche final sentence - it's a very well-written novel. I give the author major props for his unique descriptions of each zombie kill. I don't think there are two kills that are the same either in action or the authors language. And all of it is sickeningly realistic, this is not one for the squeamish! Recommended for any zombie fans.