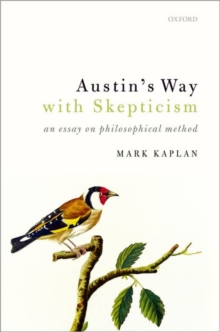 Austin's Way with Skepticism : An Essay on Philosophical Method
Hardback
Description
J. L. Austin is famous for writing as if he thought it a condition, on the adequacy of what we say while doing epistemology, that it accord faithfully with what we would say in ordinary circumstances.
A durable consensus formed after Austin's death that his pursuit of epistemology faithful to 'ordinary language' was fundamentally misguided.
While critics saw his methods as resulting from a failure properly to understand the nature of the epistemologist's project,Mark Kaplan argues that this consensus arose from a misreading of Austin.
In Austin's Way with Skepticism: An Essay on Philosophical Method, he sets out his stance that both the condition of adequacy to which Austin was committed and his reason for being committed to it, have been misunderstood by hiscritics. Starting by carefully analysing what Austin said about knowledge in 'Other Minds,' examining the response to skeptical arguments, and taking seriously the methodological remarks Austin scattered in his corpus, Kaplan demonstrates that Austin's methods were not born of a misunderstanding of the project of epistemology.
Rather, Austin was a powerful critique of how that project has been conceived though was not against epistemological theorizing itself.
Kaplan concludes that Austin understoodhimself to be offering substantive answers to key epistemological questions and defending a way of doing epistemology that is fully capable of providing these important answers.
Free Home Delivery
on all orders
Pick up orders
from local bookshops