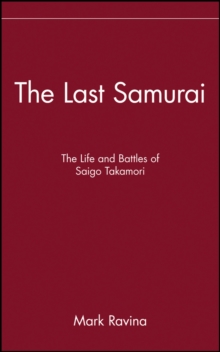 The Last Samurai : The Life and Battles of Saigo Takamori
Hardback
Description
The dramatic arc of Saigo Takamori's life, from his humble origins as a lowly samurai, to national leadership, to his death as a rebel leader, has captivated generations of Japanese readers and now Americans as well - his life is the inspiration for a major Hollywood film, The Last Samurai, starring Tom Cruise and Ken Watanabe.
In this vibrant new biography, Mark Ravina, professor of history and Director of East Asian Studies at Emory University, explores the facts behind Hollywood storytelling and Japanese legends, and explains the passion and poignancy of Saigo's life.
Known both for his scholarly research and his appearances on The History Channel, Ravina recreates the world in which Saigo lived and died, the last days of the samurai.
The Last Samurai traces Saigo's life from his early days as a tax clerk in far southwestern Japan, through his rise to national prominence as a fierce imperial loyalist.
Saigo was twice exiled for his political activities -- sent to Japan's remote southwestern islands where he fully expected to die.
But exile only increased his reputation for loyalty, and in 1864 he was brought back to the capital to help his lord fight for the restoration of the emperor.
In 1868, Saigo commanded his lord's forces in the battles which toppled the shogunate and he became and leader in the emperor Meiji's new government.
But Saigo found only anguish in national leadership.
He understood the need for a modern conscript army but longed for the days of the traditional warrior.
Saigo hoped to die in service to the emperor. In 1873, he sought appointment as envoy to Korea, where he planned to demand that the Korean king show deference to the Japanese emperor, drawing his sword, if necessary, top defend imperial honor.
Denied this chance to show his courage and loyalty, he retreated to his homeland and spent his last years as a schoolteacher, training samurai boys in frugality, honesty, and courage.
In 1876, when the government stripped samurai of their swords, Saigo's followers rose in rebellion and Saigo became their reluctant leader.
His insurrection became the bloodiest war Japan had seen in centuries, killing over 12,000 men on both sides and nearly bankrupting the new imperial government.
The imperial government denounced Saigo as a rebel and a traitor, but their propaganda could not overcome his fame and in 1889, twelve years after his death, the government relented, pardoned Saigo of all crimes, and posthumously restored him to imperial court rank.
In THE LAST SAMURAI, Saigo is as compelling a character as Robert E.
Lee was to Americans-a great and noble warrior who followed the dictates of honor and loyalty, even though it meant civil war in a country to which he'd devoted his life.
Saigo's life is a fascinating look into Japanese feudal society and a history of a country as it struggled between its long traditions and the dictates of a modern future.
Information
Format: Hardback
Pages: 288 pages
Publisher: John Wiley and Sons Ltd
Publication Date: 24/11/2003
ISBN: 9780471089704
Other Formats
Paperback from £10.65
EPUB from £12.47
PDF from £12.47
Free Home Delivery
on all orders
Pick up orders
from local bookshops
Reviews
Showing 1 - 3 of 3 reviews.
Review by wyvernfriend
16/06/2015
An interesting look at the life of Saigo Takamori if a little superficial, in order to properly enjoy it you probably would really need to have a better understanding of more modern Japanese history. A good book for a student of the period but a little superficial for the average reader.
Review by Shrike58
16/06/2015
What has most stuck with me as an image of Saigo Takamori is the incongruity of his death, as a rebel against the state that he helped to create. The Saigo Takamori that the author depicts (often using Saigo's own words) is an individual of great moral probity and ethical culture, besides being a man of action, who was almost always willing to sacrifice position for honor and integrity. This makes Saigo a great examplar of the contradictions of Modern Japan, where the question always returns to whether too much was sacrificed in the scramble for power and wealth. Besides this Ravina also provides a concise account of the process by which the Tokugawa Shogunate fell.
Review by Chris_El
16/06/2015
There is no Tom Cruise in this book. =) In fact, the story is much different as history usually is from Hollywood storytelling. What we do have is a story of what is was like to be born into the Samurai class in Japan and grow up rather poor. There is a mix of the big picture of the changing times, western gunboat diplomacy, and the influx of technology and philosophy and of the story of Saigo. There is so much explaining of context now that I am done I feel like I am now ready to read the actual biography. Such a different world than the modern age.
Also by Mark Ravina