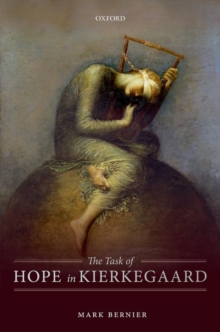 The Task of Hope in Kierkegaard
Hardback
Description
Philosophers of religion are often caught up with the epistemic justification of their religious beliefs, rather than the qualities of the religious life that make it valuable.
Mark Bernier argues that hope is one of the most important of such qualities, and is an essential thread that connects despair, faith, and the self.
The Task of Hope in Kierkegaard reconstructs Kierkegaard's theory of hope, which involves the distinction between mundane and authentichope, and makes three principal claims.
Firstly, while despair involves the absence of hope, a rejection of oneself, and a turn away from one's relation to God, despair is fundamentally an unwillingness to hope.
This unwillingness is directed toward authentic hope, conceived of by Kierkegaard as anexpectation for the possibility of the good.
Secondly, hope is not simply an ancillary activity of the self; rather, the task of becoming a self is essentially constituted by hope.
Thus, when in despair one is unwilling to hope, one is in fact rejecting one's task of becoming a self.
Thirdly, faith stands in opposition to despair precisely because it is a willingness to hope.
An essential role of faith is to secure the ground for hope, and in this way faith secures the ground for the self.
Inshort, authentic hope (what Kierkegaard calls spiritual hope) is not merely a fringe element, but is essential to Kierkegaard's project of the self.
Free Home Delivery
on all orders
Pick up orders
from local bookshops