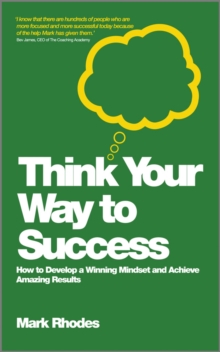 Think Your Way to Success - How to Develop a Winning Mindset and Achieve Amazing Results
Paperback
Description
You can achieve anything when you know how to put your mind to it We all know that a positive mental attitude can work wonders but there's so much more to it than that.
With the right coaching you can move from positive attitude to determined success magnet!
Mark Rhodes trains people every day on just how to achieve that level of concentrated resolve.
In this book he'll show you how to build the mindset you need to achieve your goals and dreams and start to notice more opportunities and have the confidence to act on them.
Whilst NLP based, no prior knowledge of NLP is needed!
Mark keeps the science in the background. And don't worry, he doesn't ask us to trust the powers of the Universe and have 'faith' that it will work.
Mark's steps are practical and actionable, using real examples. Think Your Way to Success will supercharge your performance, helping you to: Map out exactly what you want to achieve Find the confidence to act on opportunities Use visualization to get results Conquer your fears and phobias Beat the I can t virus and shake off limiting beliefs Praise for the book: "I know that there are hundreds of people who are more focused and more successful today because of the help Mark has given them." Bev James, CEO of The Coaching Academy The perfect antidote to negativity and a powerful reminder that attitude changes everything.
Guy Rigby, Director - Head of Entrepreneurs, Smith & Williamson Limited, author of From Vision to Exit This book shows the really important things about mind power so that you will be able to emulate Mark s success.
Keep it with you and read it over and over again! Ron G Holland, author of Talk & Grow Rich Mark Rhodes has given NLP a new look...I recommend it to NLPers everywhere...Dr Richard Bandler, Co founder of the field of NLP, Author of The Secrets of Being Happy
Other Formats
EPUB from £8.57
PDF from £8.57
Free Home Delivery
on all orders
Pick up orders
from local bookshops