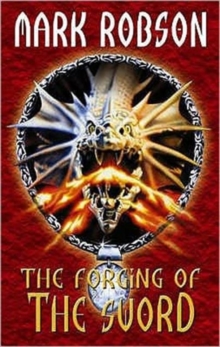 The Forging of the Sword
Paperback
Information
Format: Paperback
Pages: 311 pages, 1M.
Publisher: Sword Publishing
Publication Date: 30/04/2000
Category: Fantasy
ISBN: 9780953819003
Free Home Delivery
on all orders
Pick up orders
from local bookshops
Reviews
Showing 1 - 2 of 2 reviews.
Review by purplerockerchick
16/06/2015
These books are really good but this one was a little slow at the beginning...
Review by mandochild
16/06/2015
I remember exactly where I got this book. We were in Ottakars in Witney and I was too busy browsing to take much note of a book-signing session that was taking place at the front of the store. Malcolm disappeared for a little while and came back proudly bearing his prize - he'd bought a copy of The forging of the sword and had it signed for me. Even though it was yet another fantasy novel (how do I end up with so many of them when I'm not normally a fan of the genre????) he felt that it was a special opportunity to have an author-signed book, made out especially to me (at the time we were still sufficiently new to England that we didn't realise that author signings are not a rare occurrence there). According to the inscription, the date was 28 October 2000, so this book has been sitting on my shelf, waiting to be read, for over eight years.It is published by "Sword Publishing" and my instinct was that this was a self-published effort. There are more than enough glaring grammatical faults to be truly obvious, and the book labours under a strange combination of American spellings (plus some outright consistent misspellings - perhaps they were only guessing at American spellings?) and peculiarly English colloquialisms such as "he was stood". The narrative also makes strange leaps at places, and then deals almost obsessively with the minutiae of military life (perhaps not surprising given the military background of the author). At times the theme of magic seems almost superfluous to the story - I wondered if it might have been better if it had been written as historical fiction rather than attempting to dress it up as fantasy.I was therefore very surprised just now when I checked the Amazon site and discovered that, not only did there end up being a "book 2" but a whole lot of other titles besides. There is even a new Mark Robson novel dated 2009. The Darkweaver legacy series is even getting 5 star ratings. Perhaps the more recent editions have cleaned up some of the problems?For all my criticisms, I found it worth finishing the novel. Perhaps the focus seems to move around and rest in odd places and the characters aren't always that well developed, but the description of military life is fascinating, even if it is out of phase with its apparent context. And when magic does manage to fight for space, it is well and imaginatively handled. I'm not sure I have the stomach for book 2, but it has been interesting to remind myself of a wet and windy day in Witney, a town I so frequently miss.