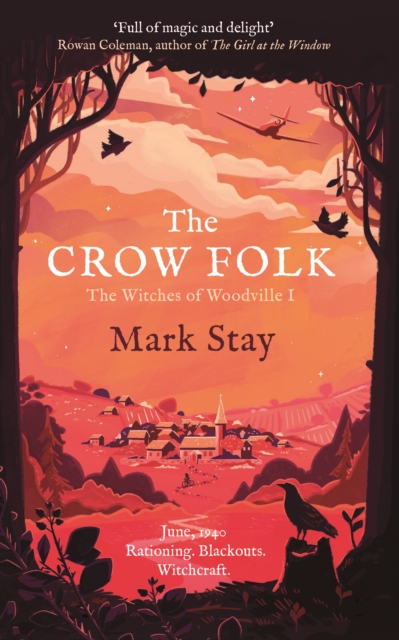 The Crow Folk : The Witches of Woodville 1
Paperback / softback
Description
'Beautiful and engaging and clever and what more could you ask for in a book?' Manda Scott, bestselling author of A Treachery of Spies 'A story that is full of magic and delight that will thrill readers of any age' Rowan Coleman, author of The Girl at the Window 'Extremely funny, full of imagination, verve and typical English "home counties" wit' Irish Independent As Spitfires roar overhead and a dark figure stalks the village of Woodville, a young woman will discover her destiny . . . Faye Bright always felt a little bit different. And today she's found out why. She's just stumbled across her late mother's diary which includes not only a spiffing recipe for jam roly-poly, but spells, incantations, runes and recitations . . . a witch's notebook. And Faye has inherited her mother's abilities. Just in time, too. The Crow Folk are coming. Led by the charismatic Pumpkinhead, their strange magic threatens Faye and the villagers.
Armed with little more than her mum's words, her trusty bicycle, the grudging help of two bickering old ladies, and some aggressive church bellringing, Faye will find herself on the front lines of a war nobody expected. ***For fans of Lev Grossman and Terry Pratchett comes this delightful novel of war, mystery and a little bit of magic . . . Don't miss the other magical books in the WITCHES OF WOODVILLE series! #1 The Crow Folk #2 Babes in the Wood #3 The Ghost of Ivy Barn #4 The Holly King Praise for THE CROW FOLK 'Stay has brewed a cracking blend of charm and creepiness in The Crow Folk.
A rip-roaring tale of bravery and witchcraft on the wartime home front, expertly told with lashings of wit and warmth' Pernille Hughes, author of Probably the Best Kiss in the World 'A delightful mash-up of Dad's Army and Charmed.
An absolute treat' CK McDonnell, author of Stranger Times 'Warm, witty, witchy wartime fun.
With Mark Stay as writer you're always guaranteed a magical read' Julie Wassmer, author of the Whitstable Pearl Mysteries 'You'll love it: Doctor Who meets Worzel Gummidge' Lorna Cook, author of The Forgotten Village 'A jolly romp with witches, demons, and bellringing.
Pratchett fans will enjoy this, and Faye is a feisty and fun hero.
Dad's Army meets Witches of Eastwick' Ian W Sainsbury
Information
Format:Paperback / softback
Pages:352 pages
Publisher:Simon & Schuster Ltd
Publication Date:04/02/2021
Category:
ISBN:9781471197970
Information
Format:Paperback / softback
Pages:352 pages
Publisher:Simon & Schuster Ltd
Publication Date:04/02/2021
Category:
ISBN:9781471197970