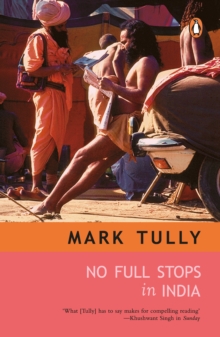 No Full Stops in India
Paperback
Description
India's Westernized elite, cut off from local traditions, 'want to write a full stop in a land where there are no full stops'.
From that striking insight Mark Tully has woven a superb series of 'stories' which explore Calcutta, from the Kumbh Mela in Allahabad (probably the biggest religious festival in the world) to the televising of a Hindu epic.
Throughout, he combines analysis of major issues with a feel for the fine texture and human realities of Indian life.
The result is a revelation. 'The ten essays, written with clarity, warmth of feeling and critical balance and understanding, provide as lively a view as one can hope for of the panorama of India.' K.
Natwar-Singh in the Financial Times
Information
Format: Paperback
Pages: 368 pages, illustrations, maps
Publisher: Penguin Books Ltd
Publication Date: 14/09/1992
Category: Asian history
ISBN: 9780140104806
Free Home Delivery
on all orders
Pick up orders
from local bookshops
Reviews
Showing 1 - 3 of 3 reviews.
Review by herschelian
16/06/2015
Mark Tully was for many years the BBC's India correspondent. He has spent his whole life in India, and knows it and it's people, politics, and religions better than any other westerner. A totally brilliant observer, he shows you India with all its noise, dirt, history, beauty, and mysteriousness. A fantastic read for anyone who is going to India, has been to India or is even slightly interested in India.
Review by soylentgreen23
16/06/2015
I've always been impressed by Mark Tully, whenever I've seen him on TV or read his work in the media, but this was the first time I had read one of his books, and I'm certainly glad I did. He is the perfect authority on his subject - knowledgeable, sensitive, and just far-removed enough to be able to cut through a lot of the petty politics others find it impossible to avoid.In this collection of essays, Tully looks at 'modern' living in India - though this was written in the nineties, so it is a touch dated now - including rural life, art, politics and religion in India.
Review by nandadevi
16/06/2015
Tully is a respected veteran reporter on the Indian scene with impeccable connections at the political level, and on the personal level - he was born in Calcutta. In this book he examines the huge canvas of Indian political and social life through a series of essays that capture incidents large and small. But whether he is talking about the wedding of his employee´s daughter in a small village, or the assasination of political leaders, Tully draws in threads of history and character. He places the small story in its context in the big themes of history, and reminds the reader - through some detail that other´s have not thought worth telling - of the personal tragedies and triumphs behind the headline stories. Tully has a great affection for India, despite it´s faults, and has written a book that lays them both before the reader in very honest terms.