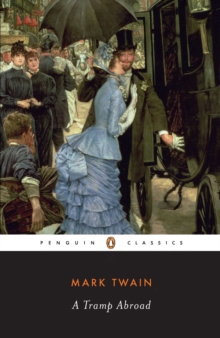 Description
Twain's account of travelling in Europe, A TRAMP ABROAD (1880), sparkles with the author's shrewd observations and highly opinionated comments on Old World culture, and showcases his unparalleled ability to integrate humorous sketches, autobiographical tidbits, and historical anecdotes in a consistently entertaining narrative.
Cast in the form of a walking tour through Germany, Switzerland, France and Italy, A TRAMP ABROAD includes among its adventures a voyage by raft down the Neckar and an ascent of Mount Blanc by telescope, as well as the author's attempts to study art - a wholly imagined activity Twain 'authenticated' with his own wonderfully primitive pictures included in this volume.
Information
Format: Paperback
Pages: 448 pages, b&w line drawings
Publisher: Penguin Books Ltd
Publication Date: 01/12/1997
Category: Literary essays
ISBN: 9780140436082
Other Formats
Paperback from £11.99
Hardback from £14.50
Paperback / softback from £8.99
Free Home Delivery
on all orders
Pick up orders
from local bookshops
Reviews
Showing 1 - 2 of 2 reviews.
Review by Oreillynsf
16/06/2015
Twain writes a strong travelogue, and A Tramp Abroad is no exception. His xenophobia is in rare form here. While perhaps not as strong as The Innocents Abroad, it's an entertaining ride just the same. You'll never look at Germany and Germans the same way again. I'm told that Germans love The Simpsons, this book is our chance to return the good natured laughter.
Review by OscarWilde87
16/06/2015
A Tramp Abroad
gives an account of one of Mark Twain's journeys through Europe. It is one of the author's travelogues in which he shares his observations while 'tramping' through Germany, Switzerland, France and Italy. 'Tramping' here includes the ascent of Mont Blanc by telescope. With a book as this you cannot really tell what exactly it is about apart from saying what I just said. You'd either have to tell it all or just leave it. I decided to leave it for the interested readers to explore. Just imagine an American traveling through Europe at the end of the 19th century.To my mind there are certain things that make this book an interesting, if unconventional, read. First, there is Twain's gift for humorous depictions of people and places. Twain manages to tell his stories in a lighthearted fashion that actually makes you laugh out loud at times. Second,
A Tramp Abroad
contains various drawings made by the author himself to support his stories with some sort of 'proof'. Those drawings further contribute to the satirical way this book is written in. Eventually I have to say that I liked how Twain constantly tries to convince the reader of the truthfulness of what he's telling. At numerous points in the book, the author uses footnotes to heighten his credibility. There is even an appendix to fit in all the accounts Twain could not get into his main narrative. This last aspect is somewhat ironic as the main narrative is just an unconnected telling of stories in which the narrator often digresses into things that are only remotely relevant to his story. To give potential readers some idea of what I especially liked about this book and about Mark Twain in general I chose some quotations that I find quite revealing as to Twain's style. Personally, I think Twain is a genius.
I have since found out there is nothing the Germans like so much as an opera. They like it, not in a mild and moderate way, but with their whole hearts. This is a legitimate result of habit and education. Our nation will like the opera, too, by and by, no doubt. One in fifty of those who attend our operas likes it already, perhaps, but I think a good many of the other forty-nine go in order to learn to like it, and the rest in order to be able to talk knowingly about it. The latter usually hum the airs while they are being sung, so that their neighbors may perceive that they have been to operas before. The funerals of these do not occur often enough.(on opera visits, p. 50)
The Germans are exceedingly fond of Rhine wines; they are put up in tall, slender bottles and are considered a pleasant beverage. One tells them from vinegar by the label.(on German wine, p. 84)
Now, in the end I was not sure how to rate this book in terms of stars.
A Tramp Abroad
is certainly an interesting and funny read. However, I think to really enjoy it you have to have been in one of the countries that are depicted in the book or have some knowledge about Germany and Switzerland. Otherwise, you just would not enjoy the book that much, I assume. Living in Germany, though, I find the book highly recommendable. Finally a note on the reading experience. A book with little above 400 pages that is divided into 50 chapters and an appendix is nothing like the usual reading experience you have with novels. But then again
A Tramp Abroad
is not a novel. So you might need some time to get used to the structure of the book. It is more like some fifty plus separate stories as Twain usually tells more than one story per chapter. All things considered, I would rate the book with 3.5 stars.