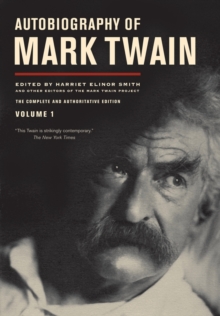 Autobiography of Mark Twain : The Complete and Authoritative Edition v. 1
Hardback
Description
Autobiography of Mark Twain READER'S EDITION Now Available!
Half the Size, All the Twain! ISBN 978052027255 "I've struck it!" Mark Twain wrote in a 1904 letter to a friend. "And I will give it away--to you. You will never know how much enjoyment you have lost until you get to dictating your autobiography." Thus, after dozens of false starts and hundreds of pages, Twain embarked on his "Final (and Right) Plan" for telling the story of his life.
His innovative notion--to "talk only about the thing which interests you for the moment"--meant that his thoughts could range freely.
The strict instruction that many of these texts remain unpublished for 100 years meant that when they came out, he would be "dead, and unaware, and indifferent," and that he was therefore free to speak his "whole frank mind." The year 2010 marks the 100th anniversary of Twain's death.
In celebration of this important milestone and in honor of the cherished tradition of publishing Mark Twain's works, UC Press is proud to offer for the first time Mark Twain's uncensored autobiography in its entirety and exactly as he left it. This major literary event brings to readers, admirers, and scholars the first of three volumes and presents Mark Twain's authentic and unsuppressed voice, brimming with humor, ideas, and opinions, and speaking clearly from the grave as he intended.
Editors: Harriet E. Smith, Benjamin Griffin, Victor Fischer, Michael B. Frank, Sharon K. Goetz, Leslie Myrick
Information
Format: Hardback
Pages: 760 pages, 21 line figures, 45 b/w photographs, 2 diagrams
Publisher: University of California Press
Publication Date: 15/10/2010
Category: Autobiography: literary
ISBN: 9780520267190
Free Home Delivery
on all orders
Pick up orders
from local bookshops
Reviews
Showing 1 - 5 of 11 reviews.
Previous | Next
Review by photoeditor51
16/06/2015
I was excited about this book, hoping to read more of the witty humor from Twain. I was one of the first to order it. I am extremely disappointed in the fact that the type is about 6 points with excerpts even smaller (4 pt?). The book is over 700 pages and this is only Vol. 1. This wonderful man would have been better served if the publisher had assigned some editors to edit this massive amount of information about Twain's life. This book is better left to the literary scholars of Twain. Like many my age, I need reading glasses to read and this presents an impossible task. I hope I can return it to Amazon!
Review by oraclejenn
27/01/2016
I love Mark Twain's stories. He has a very engaging way of writing. His autobiography took a bit to get through however. He jumped around from topic to topic (he'd start talking about one thing, mention it reminded him of something else and go off on a tangent). That took some getting used to.<br/><br/>Seeing the correspondence he had with his contemporaries was really interesting. When he started talking about his daughter Suzy and the biography she had written about him when she was younger, you could feel the love and adoration he had for her.
Review by Vianna
16/06/2015
The material suggests S. Clements might have created the first unofficial social network system to promote himself; always finding ways to tell "his" story regardless if the truth was verifiable; using many modalities to advance his writings, mostly as a speaker. I wish the auto was chronological rather than a display of thoughts as they came to him. I'm only half way through the book, but so far the material up to the "official" auto is more interesting than the auto itself.
Review by Fledgist
16/06/2015
Twain was a curmudgeon's curmudgeon, an author's author, and certainly one of the finest writers of English prose that the United States has produced. His account of his life is a work worth reading.
Review by JeffV
16/06/2015
Perhaps I need to take a break from autobiographies -- only one of the last three I read was truly good.Mark Twain wrote the basis for this volume in his late years, with orders given that it was not to be published until a century after his death. This was done to avoid harming those living or their immediate heirs. I think having him "speak from the grave" all these years later was somewhat appealing to him as well.This volume was put together by a group of people compiling not only Twain's final autobiographical manuscript, but content from several other starts, as well as content from other Twain contemporaries. It is not by any means a "cradle to the grave" narrative, and most of it isn't even about Twain himself! It begins with summary of General Grant's final years and financial problems, and often strays to tell the stories of others -- some whose names still resonate in history (including some presidents, such as Cleveland), and some that were completely inconsequential, resembling the reminiscing of a doddering old man. There are moment of revelation and interest. When he was young and penniless, Twain took a riverboat from Cincinnati to New Orleans with the intent of booking passage to the Amazon and becoming a coke dealer. However, he neglected to check and see if there was any shipping from that port which traveled that way (there was not!) so he undertook training to be a riverboat captain instead. There are numerous passages quoted from Twain's daughter's biography of him -- a work in progress when she died at age 24. The deaths of children, his own and others, seemed to have the most emotional impact upon him. That and editors. He hated them with a passion -- recounted in amusing detail a dressing-down he gave to one who dared to presume to know better, and then afterward congratulated himself on his restraint because the "toad-brained fool" simply didn't know any better.Not all of his anecdotes are amusing or even significant, however. The group that published this book has a lot of original source material available on their website, and it seems this volume could have withstood a fair amount more editing, with the outtakes consigned to the web for those who can't get enough. I suppose I'd probably enjoy a biography culled from this source material. Jumping the time line was too much of a distraction. In the final passages. he spoke of Helen Keller (with an epitaph that she would be remembered as one of the great names in History); the Russian Revolution (he thought Teddy Roosevelt set it back centuries or killed it permanently and lamented this in a conversation with Tchaikovsky); and he lambasted US policy and the atrocities committed in the Philippines. But then he spoke of his early years when as a teenager he worked in a small printing house where they were rarely paid in cash, just barter. I'm not sure what Volume 2 will contain, but I would guess more about his childhood, and perhaps more surrounding the creation of some of his greatest works.
Also in the Mark Twain Papers series | View all