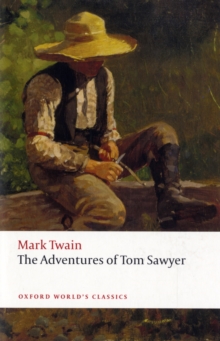 The Adventures of Tom Sawyer
Paperback
Description
'Tom was a glittering hero once more - the pet of the old, and the envy of the young...There were some that believed he would be President yet, if he escaped hanging.' In this enduring and internationally popular novel, Mark ogaincombines social satire and dime-novel sensation with a rhapsody on boyhood and on America's pre-industrial past.
Tom Sawyer is resilient, enterprising, and vainglorious.
In a series of adventures along the banks of the Mississippi, he usually manages to come out on top. From petty triumphs over his friends and over his long-suffering Aunt Polly, to his intervention in a murder trial, Tom engages readers of all ages. He has long been a defining figure in the American cultural imagination.
Alongside the charm and the excitement, Twain raises serious questions about community, race, and the past. Above all, the book invites discussion of the way in which childhood is invoked to counter the uncomfortable truths of the adult world.
ABOUT THE SERIES: For over 100 years Oxford World's Classics has made available the widest range of literature from around the globe. Each affordable volume reflects Oxford's commitment to scholarship, providing the most accurate text plus a wealth of other valuable features, including expert introductions by leading authorities, helpful notes to clarify the text, up-to-date bibliographies for further study, and much more.
Information
Format: Paperback
Pages: 256 pages
Publisher: Oxford University Press
Publication Date: 12/06/2008
Category: Classic fiction (pre c 1945)
ISBN: 9780199536566
Other Formats
Paperback from £2.50
CD-Audio from £8.65
Leather / fine binding from £13.65
Hardback from £6.45
Mixed media product from £8.34
EPUB from £0.99
Free Home Delivery
on all orders
Pick up orders
from local bookshops
Reviews
Showing 1 - 1 of 1 reviews.
Review by David.Alfred.Sarkies
16/06/2015
Looking over the reviews of this book I noticed that they swing from being 'a classic account of boys on the loose in frontier America' to 'I want to punch Tom Sawyer in the face.' One reviewer has commented on how is mum owned a dog-eared copy of this book from before he was born to after he left home to go to college (and if he doesn't want it, I'll be more than happy to take it off his hands) which made me realise how our parent's taste in literature can and does differ from our own. I grew up knowing about Tom Sawyer and Huckleberry Finn, but I have never actually read the books, and to be honest, never even realised that there was a book wholly dedicated to Tom Sawyer until a couple of years ago, and based on my parents collection of books (namely Hard Science-fiction, which is not surprising for a father who is a physicist, and detective fiction dominated by Agatha Christie) the works of Mark Twain never really entered my sphere of influence.However I recently picked up a collection of his works and decided to see what these stories were about, and I must admit that I actually quite enjoyed this tale of mischievous boyhood. Seriously, letting the entire town grieve for your death and then rocking up at your funeral really does take some guts, and I must admit that it would have been something I would have loved to have done when I was a kid. In fact, the impression that I get from this story is that it is simply Samuel Clements (using a psuedonym) recounting a lot of the mischief he and his friends got up to as children but rolling it all into one character so as to protect the guilty.There are two things that really stand out to me about this book and the first is that I found it very readable, which is something that I generally do not expect from 19th Century literature. True Clements does get bogged down into detail, but there is enough action to keep us interested, and the banter among the main characters it really enjoyable to follow, particularly when Sawyer convinces young Becky Thatcher to become engaged to him, explaining to her what engagement is from a conservative, respectful, point of view. The second thing that stood out was that it gives us a very clear view of a time gone by, an age of innocence in the American mid-west. In a way it takes us away from the troubles of today and puts us in a world where things did not seem as bad.Granted, there is a murder, and there are troubles with children getting lost in caves, but even then, we glimpse a more innocent time in the United States, though there are a few interesting quotes, such as Negroes always being liars (which raises the question of whether Samuel Clements was a southern sympathiser, despite the book being written after the Civil War, though the events are flagged as being set prior to the said war). I also see a number of influences on children's literature of today, not to say that people didn't write books for children back then, but he does say at the beginning that while this book is written for boys, he does hope that adults would enjoy this story as well.I must finish off about the story of whitewashing the fence, which is the first event in the book. Poor Tom has got himself into trouble, and has been punished by having to paint the fence, something he does not want to do, but somehow he manages to get others to do it in his stead. He does this trick (I believe) by asking somebody to pay him for the privilege, and Clements then points out afterwards that if we are paid to do something, then it is considered work, and is dull and boring, but if we pay to do something, then it is entertainment and we do it with gusto, so his theory is that if we get people to pay to do the things we don't want to do, then we will get things done a lot better and a lot quicker, than we would otherwise (and there have been movies made about how people pay to become ranchers), but I suspect that this is something that only foolish boys would do, and us adults are (I hope) probably a lot smarter than this, though I do actually wonder about it sometimes (such as celebrities paying to sleep out on the streets, seriously, if you really want to experience poverty, then give up all your riches - don't give it up for a short time, that, to me, is little more than a publicity stunt).
Also in the Oxford World's Classics series | View all