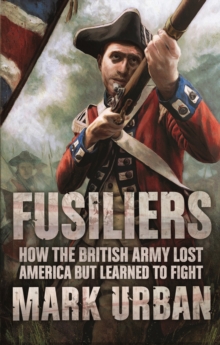 Description
From 1775 to 1781, the Royal Welch Fusiliers fought furiously to uphold British rule in America.
With a wealth of previously unused primary accounts, Urban tells the gripping story of one of the most pivotal campaigns in history.
Information
Format: Paperback
Pages: 368 pages
Publisher: Faber & Faber
Publication Date: 01/05/2008
ISBN: 9780571224883
Free Home Delivery
on all orders
Pick up orders
from local bookshops
Reviews
Showing 1 - 2 of 2 reviews.
Review by cgodsil
16/06/2015
History of one regiment in the course of the American revolution. Shows how the British changed their tacticsin the course of war (successfully). It makes it clear that the British never really had a chance of winning.
Review by jcbrunner
16/06/2015
It is an unfortunate aspect of modern book marketing that popular history books apparently need sensational truthy subtitles. "How the British Army Lost America but Learned to Fight" is a completely untrue sentence and shown to be false by the author himself in the last chapter of the book. The actual source of the successful British army in the Peninsular War from 1809 on lies in India. The author's attempt to both tell the story of the American Revolution from a British point of view and follow the path across America of one regiment, the 23rd Royal Welch Fusiliers, is only partially successful. While the 23rd was present from the start to the bitter end, it often played only a supporting role and its number of personal accounts and sources is quite limited. A concentration on Cornwallis' southern campaigns up to the surrender at Yorktown would have made a much stronger book. In the southern campaign, the 23rd was often in the center of the line of battle and shared the deprivations the British endured during their march across the Carolinas. Given the huge territories they crossed, the tiny number that constituted the British army is simply amazing. How could they ever think about subduing a rebellion with such limited forces. The book also serves as a welcome antidote to "The Patriot" movie truthiness. It is interesting to compare the British professional soldier's shock about Patriot/Loyalist atrocities in the light of today's Iraqi Sunni/Shia conflict. Often, the American patriots acted like terrorists, exacting brutal vengeance on people abandoned by the British. War is horrible and civil wars are the worst.Overall, a good read that does not attain the level of the best military unit narratives of the American Revolution, such as Friederike von Riedesel's recollections about her and her husband's service in a Brunswick regiment in America.