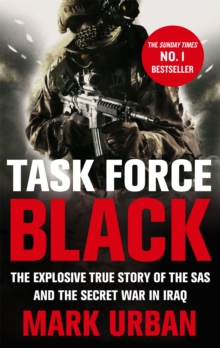 Task Force Black : The Explosive True Story of the SAS and the Secret War in Iraq
Paperback
Description
The book the MoD doesn't want you to read' Daily Mail Soon after British and American forces invaded Iraq they faced an insurgency that was almost impossible to understand, let alone reverse. Facing defeat, the Coalition waged a hidden war within a war.
Major-General Stan McChrystal devised a campaign fusing special forces, aircraft, and the latest surveillance technology with the aim of taking down the enemy faster than it could regenerate.
Guided by intelligence, a small British special forces team met the car bombers' fire with fire and accounted for thousands of insurgents.
Information
Format: Paperback
Pages: 320 pages, Section: 16, colour photos
Publisher: Little, Brown Book Group
Publication Date: 28/01/2011
Category: True war & combat stories
ISBN: 9780349123554
Free Home Delivery
on all orders
Pick up orders
from local bookshops
Reviews
Showing 1 - 2 of 2 reviews.
Review by aadyer
16/06/2015
A good general history of special forces in Iraq by a author that is very pro-war. A little too close to the matter at hand, to be unbiased, but interesting politics and also interesting to find out the nature of behind the scenes operations
Review by vguy
27/08/2015
Occasionally hard to follow due to plethora of units, affiliations and names, and this being a multi-sided conflict, approaching Hobbes' bellum omnium contra omnes: conventional forces, paras,SAS,SBS, brits, americans, shia, sunni, alquaeda, awakening, Iranians, Iraq itself splintering - so the narrative line can be hard to grasp. The main message seems to be: hard-hitting special ops with good intelligence ( mainly from cosying up to the US element) works, at least as a crude numbers game. So kill more of the "baddies" at a faster rate than they can recruit, i.e."the surge". A flaw in this arithmetic, not pointed out by Urban, is that the recruitment pool is virtually unlimited, and once you ease off, the baddies pretty soon have it their own way. Which is what has happened since the book was written. Depressing reading.In the early stages they spent much resources hitting on the Baathist leaders, who themselves said "why are you bothering with me? We're a busted flush around here". The coalition really didn't have a clue of the hornet's nest they were poking their boots into in Iraq. Alquaeda are strongly present though i would guess they weren't there in Saddam's day. A special case of self-fulfilling prophecy. Most of the themes and threads of 2006-8 are still the same, with the addition of Syrian fallout. Urban makes little explicit judgment on the whole, though seems to favour military effectiveness, as in Surge strategy. Any soldier reading this might thrill to the action sequences, but must despair at the pointlessness, especially in view of subsequent developments.