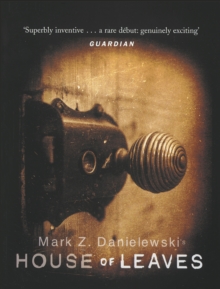 House Of Leaves
Paperback
Description
Johnny Truant wild and troubled sometime employee in a LA tattoo parlour, finds a notebook kept by Zampano, a reclusive old man found dead in a cluttered apartment.
Herein is the heavily annotated story of the Navidson Report.
Will Navidson, a photojournalist, and his family move into a new house.
What happens next is recorded on videotapes and in interviews.
Now the Navidsons are household names. Zampano, writing on loose sheets, stained napkins, crammed notebooks, has compiled what must be the definitive work on the events on Ash Tree Lane.
But Johnny Truant has never heard of the Navidson Record.
Nor has anyone else he knows. And the more he reads about Will Navidson's house, the more frightened he becomes.
Paranoia besets him. The worst part is that he can't just dismiss the notebook as the ramblings of a crazy old man.
He's starting to notice things changing around him ...Immensely imaginative.
Impossible to put down. Impossible to forget. House of Leaves is thrilling, terrifying and unlike anything you have ever read before.
Information
Format: Paperback
Pages: 736 pages
Publisher: Random House USA Inc
Publication Date: 01/07/2000
ISBN: 9780385603102
Free Home Delivery
on all orders
Pick up orders
from local bookshops
Reviews
Showing 1 - 5 of 40 reviews.
Previous | Next
Review by bugthewug
16/06/2015
This is without a doubt the most engaging, stimulating, and revolutionary book I have ever read. I don't know what to say about the plot, because there would be nothing worse than spoiling this book for someone. I guess you could say it's a story within a story within a story. Johnny Truant is one of the most fascinating characters I have ever read of in modern literature. I think it's interesting that everyone has their own opinion of how the book should be classified. Many claim it is the scariest book ever, while some claim it is a fairly weak horror novel. My opinion is that you make of the book what you make of yourself. Various claims throughout the book explain that the reason Navidson was so fascinated with the house was because it was a challenge, and he had his own issues from his past. So solving the issue of the house helped Navidson come to terms with his own issues. I believe it's the same with the book. The uniqueness of the book will be viewed in different ways for every person. I for one, saw it more as a love story, I guess because of my own romanticism. I was terrified of the house because I'm claustrophobic, and I'm sure there's more deep issues with myself that I'm not even aware of that allow me to look at the book in my own unique way.Needless to say, this book is deep in a way that is incomprehensible. Most definitely worth a read. You'll definitely feel quite the sense of accomplishment once you finish it.
Review by maquiladora
16/06/2015
This book is absolutely indescribable! To try and tell someone else about it with any accuracy seems foolish.I have talked to many people about this work,and it seems to be something that is always taken in a highly personal way.It is the literary equivalent of unsealing a secret cache room in a strangers house,sealing it back up with yourself inside it,and handling every chipped trinket,tattered photo,and terrifying diary entry.Much like the people inside the book,you will feel alone.I have never been more emotionally affected by a simple book.I challenge you to not be unsettled by this book,but moved in a very real way.
Review by SteamboatBruce
16/06/2015
Awesome. Actually sent chills down my spine. I very much enjoyed fully reading the Labyrinth chapter. Want more books like this.And I read most of it at the beach -- as opposed to another's comment that it shouldn't be read there.
Review by angelaelectric
16/06/2015
I've read this book three times and it still scares the crap out of me. Seriously.
Review by cshigh
16/06/2015
Whoa. I've never seen anything else written like this... A book about a book about a book about a documentary about a house. Wrap your head around that. The story is great and just the book <i>design</i>, while making it difficult to choose which section to read, is incredible.<br/>Brilliant work all around.