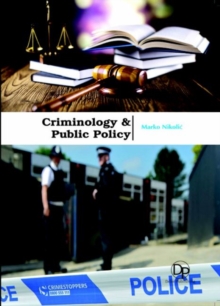 Criminology & Public Policy
Hardback
Description
The foundation of public policy is composed of national constitutional laws and regulations.
Public policy is considered strong when it solves problems efficiently and effectively, serves justice, supports governmental institutions and policies.
So, Criminology needs strong public policy base to solve problems related to crime and punishment.
Public policy making is a continuous process that has many feedback loops.
Verification and evaluation are essential to the functioning of this system.
It gives authorities and directs criminology that finds new solutions in solving the most pressing social problems. Research in Chapter 1 tests the hypothesis that group practice of the Transcendental Meditation (R) (TM) and TM-Sidhi (R) program by a group of sufficient size is associated with reduced rates of homicide and violent crime.
They focus on the macro-level of society and propose that a positive impact on the collective consciousness of society can be predicted, generated, and its influence measured in terms of decreased homicide and violent crime.
This is just an example of how smart policy and the selection of appropriate programs are important.
Findings in Chapter 2 and 3 suggest that the economic costs of sexual violence can burden survivors with fewer financial resources more heavily than those who own significant assets.
As such, these findings shift the focus toward a dimension of inequality in recovery from sexual violence that is often overlooked in research and that may have implications for public policy and victim services.
We need good policies in managing and helping survivors also and this is often overlooked once the offender is arrested.
An effective response to crime is not possible without an analysis of the social consequences of crime.
Chapter 4 takes us to modern Russia. Chapter 5 examines for the first time to what extent the lived experience of long-term prisoners matches the normative theory of criminal punishment as moral communication.
The incarcerated members of society cannot be forgotten while Chapter 6 shows us how unfortunately often serious massacres needs to happen so public policy would be changed.
Countries use technologically enhanced criminal investigation techniques for the alleged crime or for the probable crimes.
Extended applications of those techniques have become the threats to individual rights such as right to privacy, freedom of expression, the right to freedom of association and assembly, the right to freedom of movement and the due process rights.
You can read more on this subject in Chapter 7. Legal position of privacy in the legal practices of two global different legal cultures: The Continental and Anglo-Saxon systems is described in Chapter 8.
At the level of criminal law, theorizing collective guilt can be made thematic through the methodological turn towards collectivism, the promotion of an aggregate knowledge model as appropriate liability form and the normative orientation towards the criterion of concerted action as individually imputable collective wrong.
More on this in Chapter 9. Critical criminologists have often ignored the serious problem of traditional or common crime.
Chapter 10 agues that critical criminology can make a contribution to the formulation of public policy concerning traditional crime and the Chapter 11 ask the question has the massive increase in the number of Americans imprisoned over the last two decades been helpful or harmful to communities that all would agree are those most in need of deliverance from crime and the negative effects that accompany it? Or this country needs a change in state policies? Chapter 12 brings broken windows thesis that says: signs of social disorder increase crime and fear, both directly and indirectly. Research was conducted to assess the indirect relationship between perceived disorder and fear of crime through collective efficacy.
An important goal of prevention research in Chapter 13 is to identify successful initiatives that can be replicated and disseminated in the field.
The purpose of the current case study is to document the implementation process of a middle school-based dating violence prevention curriculum in economically disadvantaged urban neighborhoods.
Results describe effective strategies to secure school participation and engagement, and provide evidence regarding methods to train health and physical education teachers.
Public education policies play a significant role. Emerging body of research has focused on SROs, particularly on how SROs are viewed by students, teachers, and the general public, more on this in Chapter 14.
Chapter 15 aims to problematize discourses about protection and care that have surrounded compulsory hospitalization by evidencing its use as a control and punishment mechanism that increases the social vulnerability of young drug users.
The idea of community justice is framed in the logic of the social contract and emphasizes the responsibility of the justice system for the provision of public safety.
Chapter 16 argues that Policy failures represent a breach of the social contract and advocate for more effective collaboration between communities and the formal criminal justice system so that all parties can fulfill their obligations under the contract.
Majority of criminals are repeat offenders, the correctional institution made rehabilitation a top priority.
Some programs are more effective than others. Research in Chapter 17 deals with this subject. Criminal law has traditionally focused on the offender, in Chapter 18 you can read about how social policy and programs are beginning to take into consideration the situation of the crime victim.
Programs designed to focus on offender restitution to crime victims are being developed and implemented.
Chapter 19 discuss laws and policies that attempt to reduce firearm violence.
Changing accustomed public opinion and policies does not come easy.
We finish with crime related to big public state projects: crimes committed by and against North American urban public housing population.
Most of areas in life are covered by some kind of law, good statesman needs to always keep an open ear so he can hear and solve burning issues before they become problems.
Information
Format: Hardback
Pages: 331 pages
Publisher: Delve Publishing
Publication Date: 30/11/2016
Category: Crime & criminology
ISBN: 9781680957891
Free Home Delivery
on all orders
Pick up orders
from local bookshops