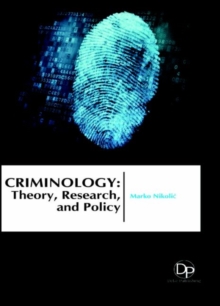 Criminology : Theory, Research, and Policy
Hardback
Description
Criminology (from Latin cr?men, "accusation"; and Greek -?????, -logia) is the scientific study of the nature, extent, management, causes, control, consequences, and prevention of criminal behavior, both on the individual and social levels.
The term was first used in 1885 by Italian law professor Raffaele Garofalo as criminologia.
In this book we will cover the bases regarding victims, crime and police in hope that this will awake the desire for further reading and studying of this legal discipline.
We will start from the historical development of Criminology and Cesare Lombroso in Chapter 2 as the most colorful person in history of this discipline because he connected anthropology and crime.
Although his theories are outdated his work is a must-know for every Criminologist.
This is the reason he is chosen from many to be mentioned in the beginning of this book.
Chapter 3 offers theoretical foundations for adopting Problem Based Learning in the study of crime and criminal justice.
While problem-based learning (PBL) has been successfully used in many disciplines for over 30 years, it has not yet been widely adopted by criminal justice instructors.
Chapter 4 brings partial test of Agnew's general theory of crime and delinquency.
Relying on a sample of adolescents and employing measures of the self, family, school, and peers domains, this study examines the contemporaneous and lagged effects of these four life domains on the likelihood of consuming alcohol and using marijuana.
Given the increased criminalization of young people in poor communities, and the possibilities for change at this very moment, progressive criminological ideas have never been more important.
Paper in the Chapter 5 discusses possible partnerships between progressive criminology and social justice organizations struggling to transform the criminal justice systems.
Often people are focusing only on urban areas, research on rural communities and crime in Chapter 6 is examined as a way to criticize and challenge mainstream criminological theories and concepts like social disorganization and collective efficacy, and to remind critical criminologists of the importance for developing critical perspectives for place-based or ecological theories of crime.
Some awarded experts are claiming that administrative criminology deserves much more positive appraisal than it has been given to date.
You can read more about their standings in the Chapter 7 while Chapter 8 is dealing with white collar crime and sentencing in these cases.
This study is saying: "It is important to strive for a sentencing system that is classless, but in doing so it is also important to respect real differences". Chapter 9 research the fact that exposure to crime and the density of alcohol outlets in one's neighborhood will be positively associated with the incidence of hospitalization for and mortality from traumatic injuries, independent of other neighborhood characteristics.
Victims and victimization are in the center of criminology interests.
You need to know the categorization of victims of crime to then enter deeper into this world and learn the specifics of every category and group so you would eventually start finding ways of stopping further victimization of the given group.
Chapter 10 gives you just outline of divisions among different victims.
For many people, the primary interaction they have with the criminal justice system is with law enforcement.
Open Data series in the Chapter 11 has been exploring the benefits and challenges of working with individual-level data in the criminal justice context.
Criminology cannot be developed only academically but it need strong and well educated practitioners also.
More on "predictive policing" you can read in this Chapter.
Chapter 12 will bring qualitative methods in criminological research (labeling approach and critical criminology) closer to you.
Qualitative methodology has to a large extent been developed in sociological research.
Stable supplies of affordable energy could adversely affect quality of life and interrupt patterns of social cohesiveness.
Chapter 13 investigates a hypothesized link between patterns of energy consumption and instrumental violence across 868 U.S. counties while next Chapter traces aspects of the development of a `green' criminology and its perspectives.
Criminology can not afford to exclude law enforcement from its studies.
That is why Chapters 15, 16 and 17 are dedicated to this aspect of fighting against crime.
Chapter 18 introduces the construction and methodological benefits of a series of new data sets that amalgamate approximately 30 years of public data on crime, victimization, fear of crime, social and political attitudes with national socio-economic indicators in England and Wales.
Little research to date has accounted for the full spectrum of victimization to which adolescents can be exposed while Chapter 19 defines Child victimization.
Final Chapter takes its starting point in the seminal work of Jock Young, The Criminological Imagination, published in 2011.
He laid down a challenge for the future of the discipline in this book.
These Chapter exposes different issues that have a vital presence in which the connections between them are unspoken.
Given that the editor himself is a supporter of Green criminology as the future of all criminological work, I hope that this text will encourage someone to work further on establishing the foundations of this new direction of thoughts, providing us all with better results in practice.
Information
Format: Hardback
Pages: 206 pages
Publisher: Delve Publishing
Publication Date: 30/11/2016
Category: Crime & criminology
ISBN: 9781680957853
Free Home Delivery
on all orders
Pick up orders
from local bookshops