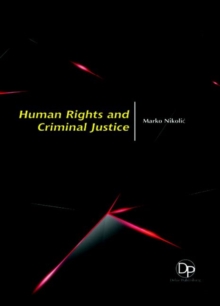 Human Rights and Criminal Justice
Hardback
Description
Protection of basic human rights today is the clearest answer to the question - are the humans in our societies essentially free?
This is the line the governments and institutions must not cross; they should protect the values of their citizens from any invasion.
This is a legal minefield because it is part of every area of law that you can imagine.
As for the protection of fundamental rights, they are guaranteed,but there are still areas with a lot of discussions and the fact that police becomes more effective while limiting these rights in emergency and danger.
They are always expressed in the constitution and laws, but operate as trumps on the will of the majority or sovereign.We will start our book with the question: What is freedom?
For the simple reason we need to know this first so that we could determine all the aspects the state needs to protect for its citizens.
We need to ensure the rule of law, individual rights and social justice.
Principles of legality in crimes and punishments refer to the fact that an act is not considered a crime and deserves no punishment, until the legislator determines and announces the criminal title and its penalty.
This important legal principle can become actual in international criminal law.
Therefore we devote the second chapter to the Nullum crimen sine lege principle.
Chapter 3 will approach a current issue with a lot of media coverage.
Surveillance scandals from the past years definitely go under disrespecting human rights and need to be addressed in a book such as this.
Nothing can't be an excuse for unwarranted invasion of privacy of citizens.
However, this book will deal with different aspects of the rights of prisoners also, their reintegration, medication, basic needs and rights.
You can read more about how human rights values apply in the daily operations of prisons, police cells, forensic and disability facilities and immigration in Chapters 4, 5 and 6.
While Chapter 7 is paying more attention to the fact that one in seven HIV-positive persons in the USA passes through a correctional facility annually in this country.
When it comes to the drug abuse Chapter 8 is making one important statement: recovery needs to be in the first place.
Bringing a punished drug user back on the street will just push him back to drugs.
Society needs to help him, respect his rights and give him some perspective when he is back on the streets.
Rights of people fleeing from crime to other countries are twice as vulnerable.
Their home state is not strong enough to protect them from being victims and they are often treated as second-class citizens in the state they are running to.
Cruelty of cartels in Mexico is known worldwide, so many decide to leave the areas of conflicts seeking for better life and survival.
Protection under the Convention Against Torture and Other Cruel, Inhuman or Degrading Treatment or Punishment for Mexican asylum-seekers is the subject of Chapter 9.
The impact of making direct and indirect connections between asylum seekers, terrorism and crime on their treatment will be studied in Chapters 10 and 11.
Synonymous with the hardest and toughest violation of human lives and rights is certainly genocide.
This is a very complex issue, and the facts of the case are always different.
This issue is usually resolved before international courts, often with a lot of political interference, but I felt obliged to dedicate some space (Chapter 12 and Chapter 13) to the questions regarding Genocide.
Chapter 14 deals with importance of access to justice in Nigeria as one of the most important human rights that needs to be respected.
Here you can also read more about: `hostile architecture.' Were London `anti?homeless spikes'- metal studs implanted at ground level designed to discourage the homeless from sleeping in otherwise unrestricted space- presenting respect of human rights of citizens, officially different from others only by not having where to sleep?
It is important to emphasize that we are all obliged to pay special attention to the protection of children, women and the sick.
This is highlighted by the most of world's conventions and Constitutions.
Gender-based abuse is the topic of Chapter 16. We will take a Chapter 17 to read about sexual orientation discrimination because a strong society needs to be able to protect every part and social group, which is part of it.
Then we are going on a trip to Africa in Chapter 18 to see how experts there think, and we will close our book with propositions for something new in Chapter 19.
The world today needs one more right to be respected, the right for a healthy environment.
Future decision makers, new generations will need to think much more about this, I hope that it will not be too late.
Chapter 20 brings schematic comparison of regional human rights systems.
Information
Format: Hardback
Pages: 230 pages
Publisher: Delve Publishing
Publication Date: 30/11/2016
Category: Crime & criminology
ISBN: 9781680957860
Free Home Delivery
on all orders
Pick up orders
from local bookshops