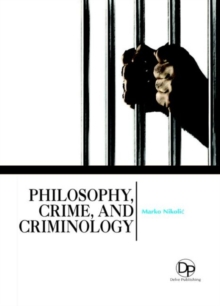 Philosophy, Crime, and Criminology
Hardback
Description
Philosophy in law, crime and criminology studies questions from the nature of law and legal systems to normative questions about the relationship between law and morality and the justification for various legal institutions.
The philosophy of law is usually recognized as jurisprudence.
Normative jurisprudence is fundamentally political philosophy, and asks, what should law be?
Analytic jurisprudence asks ""what is law?""Natural lawyers argue that law reflects essentially moral and fixed laws of nature.
The concept of ""natural law"" raised in ancient Greek philosophy alongside and in entanglement with the notion of justice, and re-entered the mainstream of Western culture through the writings of Thomas Aquinas and the commentaries of Islamic philosopher and jurist Averroes. Hugo Grotius, the founder of a purely rationalistic arrangement of natural law, argued that law arises from both a social impulse and reason.
Immanuel Kant believed a moral imperative requires laws ""be chosen as though they should hold as universal laws of nature"".
Jeremy Bentham and his student Austin, following David Hume, believed that this conflated the ""is"" and what ""ought to be"" problem.
Bentham and Austin argued for law's positivism; that real law is completely divided from ""morality"". Later in the 20th century, H. L. A. Hart argued law is a system of rules, divided into primary (rules of conduct) and secondary ones (rules addressed to officials to administer primary rules).
Secondary rules are further divided into rules of adjudication (to resolve legal disputes), rules of change (allowing laws to be varied) and the rule of recognition (allowing laws to be recognized as valid).
Two of Hart's students continued the debate: In his book Law's Empire, Ronald Dworkin attacked Hart and the positivists for their refusal to treat law as a moral issue.
Dworkin argues that law is an ""interpretive concept"" that needs judges to find the best fitting and most just solution to a legal dispute, given their constitutional traditions. What justice is and who can make decisions about what is just?
Natural Rights, Morality, and the Law is our starting point in Chapter 1 and then we are coming to Holmes and Legal realism, Legal Philosophy, John Austin and Beccaria in Chapters 2,3,4 and 5. Confession Evidence Strategies are the topic of Chapters 6 and 7 because of a deeper philosophical connection with our book.
Will the DNA and computer sciences advance so much that we will over trust only them and not a human word.
Will investigators of the future be doctors? About Libertarian welfare Rights and risks to their achievement you can read in Chapter 8. Before we enter the Chapters about modern and postmodern we will ask the question does opportunity make the thief in Chapter 9.
But knowledge of modern theories is not enough, so Chapter 11 will remind us of Plato's thoughts on justice.
While we will discuss the impact of religion in Chapter 12. Chapter 13 will sum up our knowledge of Natural law and its representatives while Chapter 14 will disclose more about Hobbes thoughts on punishment. Philosophy ask for practicing free thinking so the subject od Chapter 15 give you an opportunity for discussion and exchange of thoughts: Should rape be characterized as genocide?
Liberty, Property, and Crime is the title of Chapter 16 and does the world need mass incarceration to reduce crime of Chapter 17.
How would you approach? Chapter 18 is about future of democracy and modern societies as a global value and chapter 19 brings newm modern way of thinking: Environmental justice and biospheric egalitarianism while Chapter 20 bring more on Locke and the State of Nature. Question of provocation and killing in the heat of passion was interesting to us from a philosophical point of view and you can read more about this in Chapter 21.
We will finish with philosophical is and ought and ontological basis for establishing African legal theory. Any good book on philosophy is only a stimulus to readers to think independent.
I'll be glad if only one true, objective thinker is to be among readers of this book, because they are rear and valuable.
Information
Format: Hardback
Pages: 304 pages
Publisher: Delve Publishing
Publication Date: 30/11/2016
Category: Ethics & moral philosophy
ISBN: 9781680957921
Free Home Delivery
on all orders
Pick up orders
from local bookshops