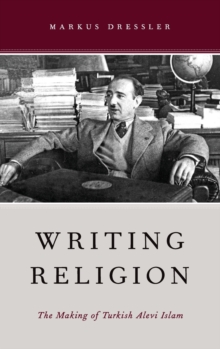 Writing Religion : The Making of Turkish Alevi Islam
Hardback
Description
Markus Dressler tells the story of how a number of marginalized socioreligious communities, traditionally and derogatorily referred to as Kizilbas (''Redhead''), captured the attention of the late Ottoman and early Republican Turkish nationalists and were gradually integrated into the newly formulated identity of secular Turkish nationalists.
In the late 1980s, the Alevis (roughly 15-20% of the population), at that time thought to be mostly assimilated into the secular Turkish mainstream, began to assert their difference as they never had before.
As Dressler demonstrates, they began a revitalization and reformation of Alevi institutions and networks, demanded an end to social and institutional discrimination, and claimed recognition as a community distinct from the Sunni majority population.
Both in Turkey and in countries with asignificant Turkish migrant population, such as Germany, the ''Alevi question,'' which comprises matters of representation and relation to the state, as well as questions of cultural and religious location, has in the last two decades become a matter of public interest.
Alevism is often assumed to bepart of the Islamic tradition, although located on its margins - margins marked with indigenous terms such as Sufi and Shia, or with outside qualifiers such as 'heterodox' and 'syncretistic.' It is further assumed that Alevism is an intrinsic part of Anatolian and Turkish culture, carrying ancient Turkish heritage back beyond Anatolia and into the depths of the Central Asian Turkish past.
Dressler argues that this knowledge about the Alevis, their demarcation as ''heterodox'' but Muslim, and their status as an intrinsic part of Turkish culture, is in fact much more recent.
That knowledge can be traced back to the last years of the Ottoman Empire and the first years of the Turkish Republic, which was the decisive period of the formation of the Turkish nation state.
Dressler contends that the Turkish nationalist reading of Alevism emerged as an anti-thesis to earlier Westerninterpretations.
Both the initial Western/Orientalist discovery of the Alevis and their re-signification by Turkish nationalists are the cornerstones of the modern genealogy of the Alevism of Turkey.
It is time, according to Dressler, for the origins of the Alevis to be demythologized.
Information
Format: Hardback
Pages: 346 pages, 2 black & white line drawings
Publisher: Oxford University Press Inc
Publication Date: 25/07/2013
Category: Middle Eastern history
ISBN: 9780199969401
Also in the AAR Reflection and Theory in the Study of Religion series | View all