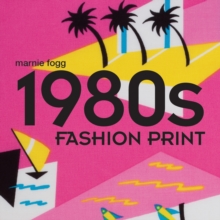 1980s Fashion Print
Paperback / softback
Description
A sourcebook of 1980s fashion print, this edition showcases prints from a design period that is having a major revival.
Covering the whole of this decade of excess, the book includes prints that were, for the first time, produced completely by fashion fabric designers (not the interior print designers of earlier eras.) The creativity of the period is given full expression in this sourcebook of hundreds of designs that make it an essential for contemporary designers and students.
The book contains exclusive illustrations and original artwork from designers as well as finished prints.
Each short chapter introduction is followed by illustrations with captions to give provenance and relevance.
The prints are arranged in the following chapters:* Glamazon: the big-hair look demanded bold, colourful patterning that said 'Look at me'* Neon Blitz: dazzling colour, ostentation and the influence of graffiti * Urban Jungle: An urban take on the floral print with exotic multi-coloured images, typified by the prints of Kenzo* Catch The Wave: the influence of the surfing, skateboarding trends on print with high-voltage motifs and a modern take on the Hawaiian shirt* Radical Classical: Revisiting the past, as in all design eras, the 1980s appropriated Classical statues and architectural detailWord count 8000Hundreds of prints from this key decade of fashion design A unique sourcebook for designers and students Ideal for the 1980s revival in fashion design and print Contains exclusive illustrations and original artwork of print designers
Information
Format: Paperback / softback
Pages: 192 pages, 230
Publisher: Pavilion Books
Publication Date: 21/09/2009
Category: History of fashion
ISBN: 9781906388416