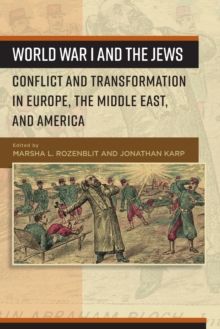 World War I and the Jews : Conflict and Transformation in Europe, the Middle East, and America
Paperback / softback
Description
World War I utterly transformed the lives of Jews around the world: it allowed them to display their patriotism, to dispel antisemitic myths about Jewish cowardice, and to fight for Jewish rights.
Yet Jews also suffered as refugees and deportees, at times catastrophically. And in the aftermath of the war, the replacement of the Habsburg Monarchy and the Russian and Ottoman Empires with a system of nation-states confronted Jews with a new set of challenges.
This book provides a fascinating survey of the ways in which Jewish communities participated in and were changed by the Great War, focusing on the dramatic circumstances they faced in Europe, North America, and the Middle East during and after the conflict.
Information
Format: Paperback / softback
Pages: 354 pages, 8 figures, 5 maps
Publisher: Berghahn Books
Publication Date: 12/10/2018
Category: Social & cultural history
ISBN: 9781789200850