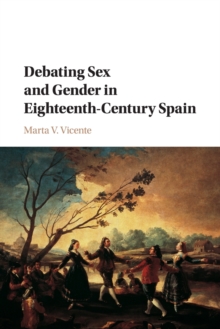 Debating Sex and Gender in Eighteenth-Century Spain
Paperback / softback
Description
Eighteenth-century debates continue to set the terms of modern day discussions on how 'nature and nurture' shape sex and gender.
Current dialogues - from the tension between 'real' and 'ideal' bodies, to how nature and society shape sexual difference - date back to the early modern period.
Debating Sex and Gender is an innovative study of the creation of a two-sex model of human sexuality based on different genitalia within Spain, reflecting the enlightened quest to promote social reproduction and stability.
Drawing on primary sources such as medical treatises and legal literature, Vicente traces the lives of individuals whose ambiguous sex and gender made them examples for physicians, legislators and educators for how nature, family upbringing, education, and the social environment shaped an individual's sex.
This book brings together insights from the histories of sexuality, medicine and the law to shed new light on this timely and important field of study.
Information
Format: Paperback / softback
Pages: 230 pages, Worked examples or Exercises
Publisher: Cambridge University Press
Publication Date: 11/06/2020
Category: European history
ISBN: 9781108814218