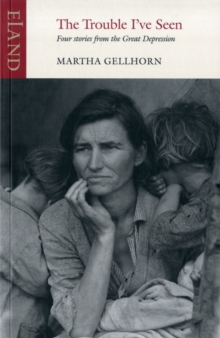 The Trouble I've Seen
Paperback
Description
Martha was the youngest of sixteen, handpicked reporters who filed accurate, confidential reports on the human stories behind the statistics of the Depression directly to Roosevelt's White House.
From these pages, we understand the real cost of sudden destitution on a vast scale.
We taste the dust in the mouth, smell the disease and feel the hopelessness and the despair. And here, too, we can hear the earliest cadences of a writer who went on to become, arguably, the greatest female war reporter of the 20th century.
Information
Format: Paperback
Pages: 244 pages
Publisher: Eland Publishing Ltd
Publication Date: 10/09/2012
Category: Travel writing
ISBN: 9781906011628
Free Home Delivery
on all orders
Pick up orders
from local bookshops
Reviews
Showing 1 - 1 of 1 reviews.
Review by alanteder
27/08/2015
This 1936 collection of 4 novellas was Martha Gellhorn's 2nd book. Her first was the novel What Mad Pursuit based on her time in Paris in the early 1930's. The fictional novellas in "The Trouble I've Seen" are based on her fact finding trips as part of a group of 16 writers who fanned out around the USA during 1934-35 to send back reports to Harry Hopkins at the Federal Emergency Relief Association to provide ground level information on what people in the nation were experiencing during the Great Depression so that Hopkins could monitor the effectiveness of the "Relief". Photographer Dorothea Lange did similar work for the Resettlement Administration and the Farm Security Administration and her iconic 1936 photograph "Migrant Mother" is used as the cover image for this edition of Gellhorn's book.The stories here are grim and often end in quite desperate and forlorn circumstances. Gellhorn still manages to convey notes of hope and small victories during each tale, even if these may seem of a tiny nature in the relative scheme of things. "Mrs. Maddison" is an elderly woman who manages to pull a home together in the various bleak situations that she is in, even though she is often in conflict with her grown daughter and son. "Joe and Pete" are two union men battling through a strike and its aftermath. "Jim" is a son in a family that is breaking apart around him who makes a last grasp for happiness when he tries to at least make his wedding day a memorable one for his girl friend. "Ruby" is the story of an 11-year old girl, alone with mother after the father has walked out on them, who wants for simple childlike things such as candy and roller-skates. Her almost casual slide into prostitution makes for the most harrowing and disturbing of these tales.Gellhorn is now known primarily for her journalism and her travel writing. Her fiction is often hard to find, but everything I've read of hers has been worth the search.