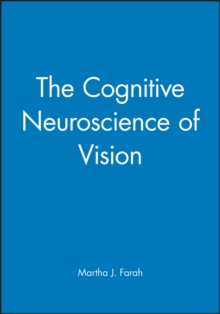 The Cognitive Neuroscience of Vision
Paperback / softback
Description
In this clear and engagingly written book, Martha Farah presents the first comprehensive overview of the cognitive neuroscience of vision.Beginning with the transformation of light images into neural images within the eye, Farah traces the processing of the visual signal throughout the brain, culminating in our conscious awareness of the objects and people we see.
The perception of colour, motion, faces, printed words, and other important components of our visual world are explained, along with the related cognitive processes of visual attention and visual mental imagery.Each chapter brings together a fascinating array of clinical anecdotes and observations, data from physiological experiments, and the latest neuroimaging studies of the normal brain at work.
The unprecedented integration of the different stages of visual perception and the different approaches to these stages will be of value to students and specialists alike.
Information
Format: Paperback / softback
Pages: 404 pages
Publisher: John Wiley and Sons Ltd
Publication Date: 07/04/2000
Category: Cognition & cognitive psychology
ISBN: 9780631214038