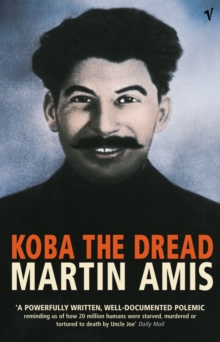 Description
Koba the Dread is the successor to Amis's celebrated memoir, Experience.
It addresses itself to the central lacuna of twentieth-century thought: the indulgence of communism by Western intellectuals.
In between the personal beginning and the personal ending, Amis gives us perhaps the best one hundred pages ever written about Stalin: Koba the Dread, Iosif the Terrible.
The author's father, Kingsley Amis, was 'a Comintern dogsbody' (as he would come to put it) from 1941 to 1956.
His second-closest, and later in life his closest friend, was Robert Conquest, whose book The Great Terror was second only to Solzhenitsyn's The Gulag Archipelago in undermining the USSR.
Amis's remarkable memoir explores these connections.
Stalin said that the death of one person was tragic, the death of a million a mere 'statistic'. Koba the Dread, during whose course the author absorbs a particular, a familial death, is a rebuttal of Stalin's aphorism.
Information
Format: Paperback
Pages: 320 pages
Publisher: Vintage Publishing
Publication Date: 04/09/2003
ISBN: 9780099438021
Free Home Delivery
on all orders
Pick up orders
from local bookshops
Reviews
Showing 1 - 1 of 1 reviews.
Review by edwinbcn
16/06/2015
After reading Jasper Becker's Hungry Ghosts: Mao's Secret Famine about the famine and preposterous claims of super-abundant grain crops, based on the pseudo-scientific theories of the Ukrainian Trofim Lysenko, I read Martin Amis' Koba the Dread. Laughter and the twenty million.The problem with this book is that Martin Amis, particularly in his later work, can best be described as a self-obsessed jerk, who finds himself, actually, much more interesting than the Great Terror and famine he writes about, in a light and sarcastic style. However, all the main facts and gruesome detail are there, including some horrific photographs about cannibalism.Robert Conquest was a friend of Kingsley Amis and often visited the Amis' family at home. Koba the Dread. Laughter and the twenty million is inspired by the conversations of his father with Conquest, probably while the latter was writing or investigating his books on the same topic, and overheard by the young Martin.