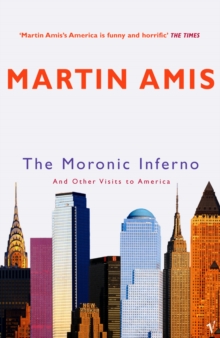 Moronic Inferno,the
Paperback
Description
At the age of ten, when Martin Amis spent a year in Princeton, New Jersey, he was excited and frightened by America.
As an adult he has approached that confusing country from many arresting angles, and interviewed its literati, filmmakers, thinkers, opinion makers, leaders and crackpots with characteristic discernment and wit.
Included in a gallery of Great American Novelists are Norman Mailer, Gore Vidal, Truman Capote, Joseph Heller, William Burroughs, Kurt Vonnegut, John Updike, Paul Theroux, Philip Roth and Saul Bellow.
Amis also takes us to Dallas, where presidential candidate Ronald Reagan is attempting to liaise with born-again Christians.
We glimpse the beau monde of Palm Beach, where each couple tries to out-Gatsby the other, and examine the case of Claus von Bulow.
Steven Spielberg gets a visit, as does Brian de Palma, whom Amis asks why his films make no sense, and Hugh Hefner's sybaritic fortress and sanitised image are penetrated.
There can be little that escapes the eye of Martin Amis when his curiosity leads him to a subject, and America has found in him a superlative chronicler.
Information
Format: Paperback
Pages: 256 pages
Publisher: Vintage Publishing
Publication Date: 05/01/2006
Category: Literary essays
ISBN: 9780099461869
Free Home Delivery
on all orders
Pick up orders
from local bookshops
Reviews
Showing 1 - 1 of 1 reviews.
Review by edwinbcn
16/06/2015
Writers have to make money, and most successful authors will write literary criticism for newspapers, either book reviews or features of other authors and their work, and these occasional pieces are often bundled and published in book form. The degree of interest of these books, basically depends on the personality and style of the writer: the more distance to the object, the less interesting, while writers whose selection of authors and subjects, writing more personally and reflecting on their own work almost as much as on the authors described, will result in more lasting work.Martin Amis papers collected in The moronic inferno, and other visits to America clearly belongs to the former, and has a very temporary, fleeting feel to it. In the introduction, Amis tries to elevate the book to a higher level, by suggesting that it is a book about America, although he himself refers to selection of occasional journalistic writing as disparate pieces. Of his hundreds of thousands of words (...) written for newspapers and magazines in the last fifteen years, about half of them seem to be about America. The other half could be about French poetry, or Japanese translations, but we know Amis is not that kind of writer. The other half is probably British fiction. The choices do not represent his personal interest in any of these writers in particular. They were "not written for his own satisfaction, but for particular editors of particular journals at particular times and at particular times" (and probably for particular rates). "The hack and the whore," etc....The title seems a bit suggestive of disdain for his object, but is clearly explained in the preface, as a mere contemplation on the human condition in 1985. (Most of Amis' non-fiction is heavily influenced by the Weltschmerz flowing from the Cold War era.)Thus, while Amis' collection includes all major American authors, and quite a few minor ones such as Gloria Steinheim, Gay Talese and Joan Didion. Not all pieces are on literature, some are on film. Towards the end, pieces become shorter and more disparate to include one on Steven Spielberg, an odd-out contribution on Aids, and even on Ronald Reagan.The feel of the collection as a was rather disappointing, out-dated and revealing very little about Martin Amis himself, which could have made it of more lasting interest. I surmise that Amis' openness and honesty about the book is the ultimate "moronic irony" of which he is a master, knowing that most buyers would not read the preface before purchase.