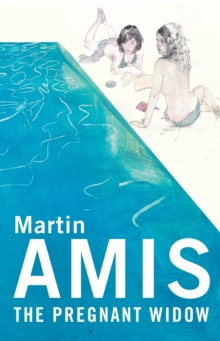 The Pregnant Widow
Hardback
Description
Summer 1970 - a long, hot summer. In a castle in Italy, half a dozen young lives are afloat on the sea of change, trapped inside the history of the sexual revolution.
The girls are acting like boys, and the boys are going on acting like boys, and Keith Nearing - twenty years old, a literature student all clogged up with the English novel - is struggling to twist feminism and the rise of women towards his own ends.
The sexual revolution may have been a velvet revolution (in at least two senses), but it wasn't bloodless - and now, in the twenty-first century, the year 1970 finally catches up with Keith Nearing.
The Pregnant Widow is a comedy of manners and a nightmare, brilliant, haunting and gloriously risque.
It is the most eagerly anticipated novel of the year and Martin Amis at his fearless best.
Information
Format: Hardback
Pages: 480 pages
Publisher: Vintage Publishing
Publication Date: 04/02/2010
ISBN: 9780224076128
Other Formats
Paperback from £7.09
EPUB from £4.99
Free Home Delivery
on all orders
Pick up orders
from local bookshops
Reviews
Showing 1 - 1 of 1 reviews.
Review by col2910
16/06/2015
Blurb..........<br/><br/><br/>Summer, 1970. Sex is very much on everyone's mind. <br/><br/><br/>The girls are acting like boys and the boys are going on acting like boys. Keith Nearing - a bookish twenty-year-old, in that much disputed territory between five foot six and five foot seven - is on holiday and struggling to twist feminism towards his own ends. Torn between three women, his scheming doesn't come off quite as he expects.<br/><br/><br/><br/>I wasn't especially looking forward to reading this, particularly after the recent train-wreck that was House Of Meetings – an absolute stinker of a book, in my opinion. However, whilst I wasn't exactly dazzled by Mr Amis this time around, it was mostly readable and enjoyable – insofar as I didn't loathe it - in an average-that-passed-some-time fashion, now what's for tea?<br/><br/><br/>Amis writes about the 70's and in particular the experiences of 20 year-old Keith on a vacation to Italy with a group of friends. The story revolves around Keith and his efforts to make the most of the increasing sexual freedoms enjoyed by the younger generation. ie he spends half the summer and a lot of the book trying to get it on with his girlfriend's friend Scheherazade.<br/><br/><br/>Keith, an English literature student, also gives Amis the opportunity to dissect the great English novel, with constant references to characters in books by DH Lawrence and others. Never having been that interested in this prose of this period, these constant references were for me the dullest and most irritating parts of the book. I possibly dozed off at these points, and therefore can't recall with absolute clarity what other literary giants were mentioned.<br/><br/><br/>The latter part of the book, updates us with Keith and his life; his recent relationships and woes – again not too interesting for me.<br/><br/><br/>Re-reading the above, I'm kind of scratching my head as to what I enjoyed about this; probably Keith's pursuit of Scheherazade and the tension caused by the will he - won't he scenario.<br/><br/><br/>Another useless piece of trivia - one of the characters, Keith's sister Violet is based on Amis's deceased sister Sally, so in parts the book is semi-autobiographical. <br/><br/><br/>3 from 5 for The Pregnant Widow - hopefully all of the other 10 or so Amis on the TBR pile will entertain me more, when I get to them. <br/><br/><br/>Purchased late 2011, from one of the plethora of second-hand retailers on-line.<br/><br/>