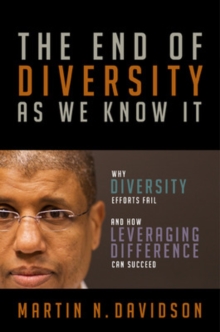 The End of Diversity As We Know It: Why Diversity Efforts Fail and How Leveraging Difference Can Succeed
Hardback
Description
Martin Davidson makes the bold claim that millions, maybe billions, of dollars in diversity training are being wasted.
Attrition statistics show a revolving door for women and minorities, but companies are still recruiting and promoting employees as they've always done.
As Chief Diversity Officer at the Darden School of Business (University of Virginia) and as a consultant with top Fortune 100 firms like AT&T and Merrill Lynch, Martin Davidson has found a better way: stop forcing diversity on people as a goal in and of itself, a matter of percentages and head counts, and instead use it strategically, creating business improvement strategies that draw on employees' different strengths.
Make cultivating difference a core competency and enjoy the improvements in innovation, marketing, and business execution that are the natural result.
Stop focusing on a narrow band of superficially diverse groups, and welcome deeper differences in lifestyles, economic backgrounds, and viewpoints. Davidson calls this new way "Leveraging Difference," which sees diversity NOT as a problem to be solved, but as an opportunity to make better business strategies.
Net result: diversity that really moves the organization forward, not just another training program that changes little.
Information
Format: Hardback
Pages: 240 pages
Publisher: Berrett-Koehler
Publication Date: 01/11/2011
Category: Social groups
ISBN: 9781605093437
Free Home Delivery
on all orders
Pick up orders
from local bookshops