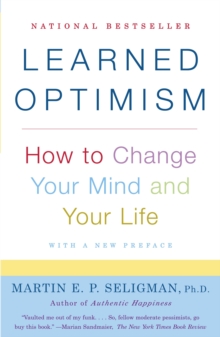 Learned Optimism : How to Change Your Mind and Your Life
Paperback
Free Home Delivery
on all orders
Pick up orders
from local bookshops
Reviews
Showing 1 - 4 of 4 reviews.
Review by Neale
16/06/2015
A good book that highlights the roles optimism/pessimism play in people's lives. It has some techniques to change from pessimism to optimism none of them earth shattering - just common sense basically arguing with yourself in favor of yourself. Some interesting studies are quoted and also a few references to psycho-history from the Asimov Foundation series which I thought was great as this is a favorite of mine. Worth a read.
Review by Daniel.Estes
16/06/2015
"What is crucial is what you think when you fail, using the power of 'non-negative thinking.' Changing the destructive things you say to yourself when you experience the setbacks that life deals all of us is the central skill of optimism."
Review by MarkNeu
16/06/2015
A bit repetitive at points, but still has very useful info on how to gauge your own optimism/pessimism level and why it is important.
Review by stacy_chambers
16/06/2015
I learned, in reading this book, that I am a pessimist. This came as news to me, since I'd always thought of myself as an optimist. But optimism - at least not as Seligman defines it - is not a soft-focus view of the world, where you believe that if you just do the right thing, everything will work out in due time. (That's magical thinking - something Seligman addresses without naming it. I learned an expensive lesson in thinking this way in grad school.) I come from a family of pessimists, so I wasn't even aware I thought this way. It's amazing how unchallenged thoughts can guide a person's life.<br/><br/>But this book hit so many points for me: the churning, negative thoughts that never let me alone, the failures that haunt me at four o'clock in the morning, the way I can blow minor issues completely out of proportion, the way I can make the fear of failure a self-fulfilling prophesy, the way I can give up or collapse internally when things go wrong. Oh, and the way I internalize criticism and make it permanent inside me, like a stone. Oh, I've done all these things, and more, which makes me realize I'm a dyed-in-the-wool pessimist. (I'm now wincing at the amount of time I spent on a barstool in my twenties, regaling my problems to friends and anyone else who would listen. But it's nice to finally put a name to the feeling.) <br/><br/>These things are universal. Every adult goes through them. I've had to learn the hard way that a big factor in deciding whether you fail or succeed is how you talk to yourself, especially when things go wrong. This is a good book to read if you're one of those people who frequently needs friends and relatives to "talk you down from the ledge." You can build the skill of thinking optimistically yourself, without putting that burden on other people - AND without discounting some of the very real benefits of pessimism. <br/><br/>In other words, Seligman doesn't define optimism as high self-esteem, or the power of positive thinking, or any nonsense. It's really just correcting a disordered way of thinking - all of the negative beliefs a person can hold without challenging them. If it came from you, it must be true, right? WRONG. So wrong. Say you want to write a novel. If writing a novel seems shrouded in mystery, if you have a deep pessimism that you can never hold back the curtain in writing it, you'll fulfill that prophesy. You'll get the same results as if you really didn't have the ability. Either you'll give up somewhere along the way, or you'll write a crappy book. <br/><br/>Optimism is endurance. That's all. This book can give you some tools for retraining.
Also by Martin E. P. Seligman | View all