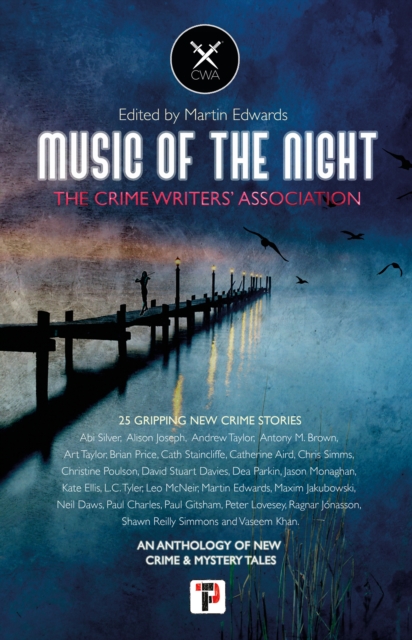 Music of the Night : from the Crime Writers' Association
Paperback / softback
Description
Music of the Night is a new anthology of original short stories contributed by Crime Writers' Association (CWA) members and edited by Martin Edwards, with music as the connecting theme.
The aim, as always, is to produce a book which is representative both of the genre and the membership of the world's premier crime writing association. The CWA has published anthologies of members' stories in most years since 1956, with Martin Edwards as editor for over 25 years, during which time the anthologies have yielded many award-winning and nominated stories by writers such as Ian Rankin, Reginald Hill, Lawrence Block, and Edward D.
Hoch. Stories by long-standing authors and stellar names sit alongside contributions from relative newcomers, authors from overseas, and members whose work haven't appeared in a CWA anthology before. Contents List:Abi Silver - Be PreparedAlison Joseph - A Sharp ThornAndrew Taylor - Wrong NotesAntony M.
Brown - The Melody of MurderArt Taylor - Love Me or Leave MeBrian Price - The Scent of an EndingCath Staincliffe - Mix TapeC.
Aird - The Last Green BottleChris Simms - TaxiChristine Poulson - Some Other DraculaDavid Stuart Davies - Violin - CEDea Parkin - The Sound and the FuryJason Monaghan - A Vulture Sang in Berkeley SquareKate Ellis - Not a NoteL.C.
Tyler - His Greatest HitLeo McNeir - RequiemMartin Edwards - The Crazy Cries of LoveMaxim Jakubowski - Waiting for CorneliaNeil Daws - The Watch RoomPaul Charles - The Ghosts of PeacePaul Gitsham - No More 'I Love You's'Peter Lovesey - And the Band Played OnRagnar Jonasson - 4x3Shawn Reilly Simmons - A Death in Four PartsVaseem Khan - Bombay BluesFLAME TREE PRESS is the imprint of long-standing independent Flame Tree Publishing, dedicated to full-length original fiction in the horror andsuspense, science fiction & fantasy, and crime / mystery / thriller categories.
The list brings together fantastic new authors and the more established; the award winners, and exciting, original voices.
Learn more about Flame Tree Press at www.flametreepress.com and connect on social media @FlameTreePress
Information
Format:Paperback / softback
Pages:320 pages
Publisher:Flame Tree Publishing
Publication Date:22/02/2022
Category:
ISBN:9781787587342
Information
Format:Paperback / softback
Pages:320 pages
Publisher:Flame Tree Publishing
Publication Date:22/02/2022
Category:
ISBN:9781787587342