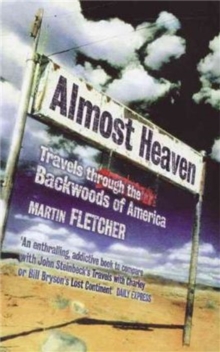 Almost Heaven : Travels Through the Backwoods of America
Paperback
Description
After seven years as Washington correspondent of THE TIMES, Martin Fletcher set off to explore the great American 'boondocks' - the raw and untamed land that exists far from the famous cities and national parks. His extraordinary journey takes him to places no tourist would ever visit, to amazing communities outsiders have never heard of, to the quintessential America. He encounters snake-handlers, moonshiners, creationists, outlaws, polygamists, white supremacists and communities preparing for Armageddon. He goes bear hunting in West Virginia, fur trapping in Louisiana, diamond digging in Arkansas and gold prospecting in Nevada. From the eccentric but friendly to the frankly unhinged, the inhabitants of backwater America and their preoccupations, prejudices and traditions are brought vividly to life. 'Fletcher is not only capable of excellent penmanship, but is also able to view the country and its people as both outsider and insider, and does so without being judgmental. I found his warm and subtly humorous style very appealing, and I highly recommend this book' INDEPENDENT ON SUNDAY
Information
Format: Paperback
Pages: 320 pages, maps
Publisher: Little, Brown Book Group
Publication Date: 01/04/1999
Category: Travel writing
ISBN: 9780349109350
Free Home Delivery
on all orders
Pick up orders
from local bookshops
Reviews
Showing 1 - 3 of 3 reviews.
Review by infinitechoice
16/06/2015
British journalist Martin Fletcher traveled through America's rural areas during the late 1990s, exploring its places and people. I'm a fan of both road trips and books about road trips, and liked Fletcher's easygoing storytelling style. However, my enthusiasm lagged towards the end of the book, when Fletcher spent an inordinate amount of time interviewing survivalists and white supremacists in the west.
Review by skinglist
16/06/2015
Started reading this last night and can't put it down--great laughs--best thing is that apart from DC, where he started, and Hilton Head, SC where I spent a week, I have never been to any of the places he went so I'm learning a lot about my 'home'.Best bit was when he was in Mississippi and thinking about the Delta and 'Twist And Shout' by Mary Chapin Carpenter came on the iPod. So the soundtrack for that part of the book.I really liked this book, was definitely an America alien to me.There were things that happened well into my lifetime, but I never even heard about them, like Texiana's quest for independence and the sagebrush rebellion in New Mexico. I also re-discovered things like Waco and Ruby Ridge. In general learned how it might be the same country where I grew up, but worlds apart.One of the laughs ' That means the world's redneck population is increasing, and if it continues to increase I think we can be very optimistic about the next century.' Uh yeah :)Loved though 'So many of our dreams at first seem impossible and then they seem improbable. But then, when we summon the will, they soon become inevitable.'Love that line. Great read.
Review by Wolfseule
16/06/2015
Kind of Blue Highways with a Journalists, not-American eye. Not quite as enchanting, but really, really interesting, if you are interested in the weirdos living in far-off places.