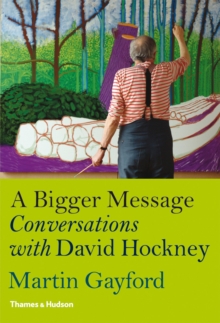 A Bigger Message : Conversations with David Hockney
Hardback
Description
In this remarkable book, a record of a decade of private conversations with art critic Martin Gayford, David Hockney reveals via reflection, anecdote, passion and humour the fruits of his lifelong meditations on the problems and paradoxes of representing a three-dimensional world on a flat surface.
These conversations are punctuated by wise and witty observations from both parties on numerous other artists, and enlivened by shrewd insights into the contrasting social and physical landscapes of California, where Hockney spent so many years, and Yorkshire, the birthplace to which he has returned.
Some of the diverse people he has encountered along the way - from Henri Cartier-Bresson to Billy Wilder - make entertaining entries into the dialogue.
Information
Format: Hardback
Pages: 248 pages, 161 illustrations, 154 in colour
Publisher: Thames & Hudson Ltd
Publication Date: 26/09/2011
Category: Art & design styles: from c 1960
ISBN: 9780500238875
Free Home Delivery
on all orders
Pick up orders
from local bookshops
Reviews
Showing 1 - 2 of 2 reviews.
Review by baswood
16/06/2015
A book of conversations that have taken place over the last ten years between David Hockney and Martin Gayford that ties in nicely with Hockney's A Bigger Picture exhibition. Gayford says that the words accumulated over the months and years have been exchanged by a variety of media; telephone, email, text, sitting face to face talking in studios, drawing rooms, kitchens and cars. He says that many of the thoughts are Hockney's, but the arrangement of them are by Gayford. The book takes the form of a conversation with DH and MG highlighted in the left hand margin, but with paragraphs by Gayford interspersed to link it all together and to provide some context. It works smoothly and well with Gayford using his own thoughts to lead Hockney into talking about his art.Although much of the book does concentrate on Hockney's more recent work, some of the chapters backtrack on Hockney's previous artistic explorations and so there are short chapters on his early success as a "Pop Artist", his work with Polaroid cameras, his work in painting back sets for operas and his foray into the world of art criticism; with his controversial writing about the camera obscura. Success came early for Hockney and he has more or less been able to do exactly as he wanted since his late twenties and has ploughed his own furrow through the art world. Gayford's conversations give us a well rounded synopsis of his career to date. The book is about Hockney's art rather than his life, but in the conversations tantalising glimpses of his life show through, however it is his thoughts on the process of making pictures which form the backbone of this book. I was particularly interested in Hockney's ideas on the differences between photography and painting as art forms; he has worked in both media and at one time he battled with the idea that photographs could be made into paintings, but now says:<i>"Most people feel that the world looks like a photograph. I have always assumed that the photograph is nearly right, but that little bit by which it misses makes it miss by a mile. This is what I grope at"</i>Hockney goes onto explain that photographs make the world look very very dull and they do not record what we see, because everyone sees the world differently. When we look at a view or an interior our mind will focus our vision on certain aspects making them stand out, perhaps become bigger, and with colours that the camera does not record, therefore when we see the picture that the camera has recorded it is usually a disappointment. Hockney sees his role as sharing his vision of the world and so perspectives will not be linear, colours may well be different and he will struggle to incorporate space in his pictures.Hockney talks enthusiastically about the great painters of the past, he is particularly fond of Van Gogh, Matisse and Picasso and has interesting things to say about what they achieved in their painting. Hockney has always embraced new technological products adapting them to his artistic vision. He has used computers, Xerox machines and Iphones, but now well into his seventies he has become excited by the possibilities of the Ipad, He says:<i>"I love it, I must admit. The Ipad can be what you want it to be……. Picasso would have gone mad with this. I don't know an artist who wouldn't actually. I thought the Iphone was great, but this takes it to a new level - simply because it's eight times the size of the Iphone, as big as a reasonably sized sketchbook."</i>Hockney has some important things to say about seeing, how many of us see very little of what is around us and in many ways the role of the artist is to make us see things that we might not otherwise see. He talks about the pleasures of seeing and how he will spend a long time just looking at an object before he will make an image. There are chapters on The Power of Images, Painting with Memory, The importance of Drawing, Music and Movement and the problems of how to put marks on a blank canvas. The book ends with a chapter on Hockney's latest preoccupation, but it is one he has struggled with all his artistic life; how to capture time and space. He wants to capture the hawthorn blossom that bursts out in spring and he and his team are working with nine video cameras all pointing in different directions, with different exposures and zooms to provide an all round view of a walk down a country lane. He wants to capture that feeling of seeing everything that you can; as you peer at the hedgerow or look up at the branches of the trees as they pass by. The results can be seen at the Bigger Picture exhibition as the viewer looks at nine split screens with the images married together to provide the feeling of that walk down a country lane. A fascinating experience for those with the patience to see.A Bigger Message will certainly appeal to anyone who has enjoyed Hockney's exhibition as it provides valuable insights into what the artist is trying to achieve and the problems that he faces in producing the work. It will also appeal to anyone who is interested in how an artist looks at the world and how this artist in particular sets about making his pictures. Hockney's enthusiasm for his work comes bubbling over during these conversations and the reader comes away with a lasting impression of an artist at work in a fairly rarefied atmosphere. A great read that once I started I could not put down. Thank you David Hockney and Martin Gayford. 4 stars.
Review by aseikonia
16/06/2015
Wonderful interviews with this master painter, on painting, photography, theater, art history, drawing, looking, seeing. Excellent reproductions of Hockney's artwork.