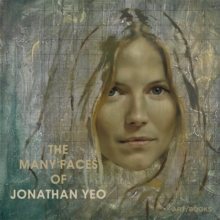 The Many Faces of Jonathan Yeo
Hardback
Description
Jonathan Yeo is one of Britain's best-known portrait painters.
Over more than a decade, he has gained an international reputation for painting some of the most famous faces of our age.
Models and movie stars, artists and actors, politicians and princes - all have been the subject of his iconic, and often ironic, portraits.
Nicole Kidman, Dennis Hopper, Kevin Spacey, Stephen Fry, Damien Hirst, Sienna Miller, Rupert Murdoch, Grayson Perry, Tony Blair and Prince Philip are just a selection of the many household names who have sat for Yeo.
Renowned for his distinctive, highly figurative canvases and controversial collages, he employs a range of media and techniques to create a diverse body of work that expands the traditions of portraiture while examining contemporary perceptions of beauty, celebrity and power.
Coinciding with a retrospective exhibition at London's National Portrait Gallery, The Many Faces of Jonathan Yeo is the first major publication on the artist.
Featuring his most popular paintings, drawings, collages and prints, the book also presents several new canvases made especially for the show.
Alongside his intimate portraits of well-known sitters are dramatic and unsettling studies of cosmetic-surgery patients that document the compulsive and painful pursuit of physical perfection.
Dozens of studio shots and photographs of works in progress reveal Yeo's working practice and chart the process of creating individual portraits.
Numerous contributions from his subjects lift the lid on what it is like to be scrutinized by the artist's exacting, forensic eye and to have oneself captured on canvas for ever.
Martin Gayford discusses Yeo's work within the history of society portraiture, while a wide-ranging interview between the artist and Sarah Howgate, curator of the National Portrait Gallery show considers why in our image-saturated world of instant celebrity, the slowly hand-crafted portrait matters more than ever.
Not just a monograph on a single artist, this book is also an enlightening exploration of the state of portraiture today and gives an insight into the risks faced by both portraitist and sitter.
Information
Format: Hardback
Pages: 240 pages, Illustrated in colour throughout
Publisher: Art / Books
Publication Date: 23/09/2013
Category: Painting & paintings
ISBN: 9781908970091