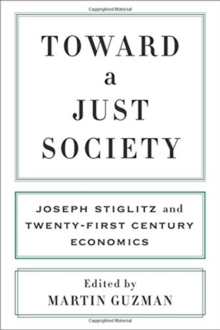 Toward a Just Society : Joseph Stiglitz and Twenty-First Century Economics
Hardback
Description
Joseph Stiglitz is one of the world's greatest economists.
He has made fundamental contributions to economic theory in areas such as inequality, the implications of imperfect and asymmetric information, and competition, and he has been a major figure in policy making, a leading public intellectual, and a remarkably influential teacher and mentor.
This collection of essays influenced by Stiglitz's work celebrates his career as a scholar and teacher and his aspiration to put economic knowledge in the service of creating a fairer world. Toward a Just Society brings together a range of essays whose breadth reflects how Stiglitz has shaped modern economics.
The contributions to this volume, all penned by high-profile authors who have been guided by or collaborated with Stiglitz over the last five decades, span microeconomics, macroeconomics, inequality, development, law and economics, and public policy.
Touching on many of the central debates and discoveries of the field and providing insights on the directions that academic economics could take in the future, Toward a Just Society is an extraordinary celebration of the many paths Stiglitz has opened for economics, politics, and public life.
Information
Format: Hardback
Pages: 576 pages, 57 b&w illustrations
Publisher: Columbia University Press
Publication Date: 28/08/2018
Category: Central government policies
ISBN: 9780231186728