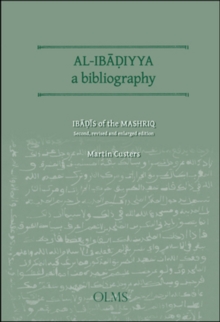 Al-Ibadiyya : A Bibliography
Hardback
Description
For a considerable time Ibadism has been a neglected field of studies, in the West as well as in the Arab world and beyond.
Since a decennium or so this is changing fast. More and more students, researchers and scholars are paying attention to Ibadism and its rich history in the Maghrib, in the Mashriq and in the region of the Indian Ocean, especially Zanzibar and East Africa.
International conferences on all kinds of aspects of al-Ibadiyya, more often than not stimulated by the Omani Ministry of Awqaf and Religious Affairs, are becoming a recurring phenomenon.
No longer the Ibadis are simply equated with the Kharijis and the negative connotation attached to that movement.
Further studying might very well even lead to the understanding that al-Ibadiyya is the oldest of all Islamic Madhahib.
The three volumes of Al-Ibadiyya, a Bibliography offer a comfortable tool in studying Ibadism.
The first two volumes, Ibadis of the Mashriq and Ibadis of the Maghrib, incl.
Egypt, contain works by Ibadi authors, printed works and manuscripts, mostly works which can be considered to belong to the Ibadi Turath.
Information is given on the authors and on their works, with secondary sources and references to related items in the other two volumes; of manuscripts details are given as well as their locations.
An index of names facilitates finding a particular author.
As for the third volume of this bibliography, Secondary Literature, it does not only contain publications directly and strictly related to Ibadism -books, articles, dissertations, not yet published conference lectures, but also titles often not directly related to Ibadi works or Ibadi subjects, such as books and articles on Jerba, the Jabal Nafusa, Mizab, the modern history of Oman, Zanzibar etc., with as much cross-references as possible to related items within this volume and in the other two volumes.
Selected subject indexes at the end facilitate searching.
The three volumes of this second, revised and enlarged edition of Al-Ibadiyya, a Bibliography are the results of visits to Mizab, Jerba, Tripolitania and Cairo in the early 1970s, more recent work of, in all, six months in several rich libraries in the Sultanate of Oman, as well as the studying of as much as possible publications on Ibadism, and searching on the world wide web.
Al-Ibadiyya, a Bibliography is to be considered a handbook on Ibadism rather than a mere bibliography.
Beginning students of Ibadism as well as seasoned researchers will find this work an indispensable instrument for their studies.
Free Home Delivery
on all orders
Pick up orders
from local bookshops