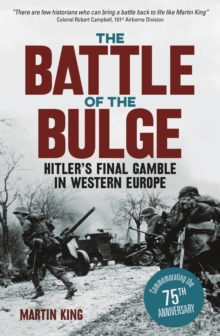 The Battle of the Bulge : The Allies' Greatest Conflict on the Western Front
Paperback / softback
Description
"Martin King tells the human side of the story of the Battle of the Bulge better than anyone." Commander Jeffrey Barta, US Navy (retired) "I have walked the battlefields with Martin King, who has traversed them countless times with veterans of the Bulge.
No one knows this story like Martin, and no one can tell it quite the way he does." Rick Beyer, New York Times bestselling author of The Ghost Army of World War II The vortex of a tornado is a vacuum, and that is where we were, in the centre of a storm of armour and artillery pushing forward into the Ardennes. - John Hillard Dunn, 106th Division, US Army The Battle of the Bulge was the largest land engagement of World War II.
The German counter-attack, spearheaded by three Panzer armies, found the Allies unprepared and ill-equipped.
As the fighting raged across the frosty forests of the Ardennes, it was left to a few untested US Infantry divisions to hold the Allied lines.
Written by one of the world's leading experts on the subject, this account provides an essential introduction to the events of winter 1944-5 and to the many soldiers who risked their lives in defence of freedom.
Drawing on personal interviews, extensive research, and an unparalleled knowledge of the region, Martin King explores one of the most important battles of World War II.
Information
Format: Paperback / softback
Pages: 256 pages, Paperback
Publisher: Arcturus Publishing Ltd
Publication Date: 15/06/2019
Category: Second World War
ISBN: 9781789500066
Free Home Delivery
on all orders
Pick up orders
from local bookshops