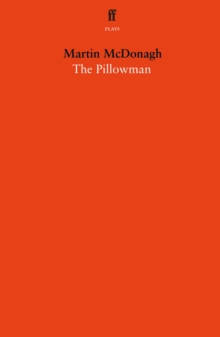 Description
A writer in a totalitarian state is interrogated about the gruesome content of his short stories and their similarities to a number of child-murders that are happening in his town.'Sometimes you don't even know what you've been craving until the real thing comes along.' New York Times'McDonagh is more than just a very clever theatrical stylist.
His tricks and turns have a purpose. They are bridges over a deep pit of sympathy and sorrow, illuminated by a tragic vision of stunted and frustrated lives.' Fintan O'Toole, Irish TimesMartin McDonagh's searingly brilliant new play premieres at the National Theatre, London in November 2003.
Information
Format: Paperback
Pages: 112 pages
Publisher: Faber & Faber
Publication Date: 20/11/2003
Category: Plays, playscripts
ISBN: 9780571220328
Free Home Delivery
on all orders
Pick up orders
from local bookshops
Reviews
Showing 1 - 4 of 4 reviews.
Review by AndreasJungherr
16/06/2015
This is a great contemporary play. At the same time it is morbidly funny and deeply disturbing. "The Pillowman" starts in the tradition of Harold Pinter. It seems to be yet another treatise on power and abuse in language and relationships. But Martin McDonagh achieves more than this. "The Pillowman" is a great contemporary morality-play dealing with the interactions of an author's life-work with a deeply absurd and cruel world. Can't wait to read it a second time.
Review by whitewavedarling
16/06/2015
Disturbing, unique, and weirdly weirdly beautiful.I've never read a play that I'd legitimately qualify as a thriller or horror story, but this one reaches that level. You'll read it in one sitting, and find it unpredictable and frighteningly fascinating throughout. If you're a fan of Law & Order And reading--you should read this now. If you're a fan of darkly comic literature--you should read this now. If you want, simply, to read a contemporary worthwhile play--again, you should read this now.Warning: I'm not kidding when I say this is dark--but I will say, when you're Tempted to stop reading, DON'T. It's not what you think.
Review by cait815
16/06/2015
I've read some great plays this year, but this one is by far my favorite.<br/><br/>
Review by elenchus
16/06/2015
Gallows humour, and a steady, unpleasant examination of cruelty, and deception. Not precisely metafiction as perhaps a commentary on metafiction, but also: the influence we have on one another, to the point of complicity, and that storytelling has a brutal pedigree. I remind myself: there is what people write, and there is what people do.