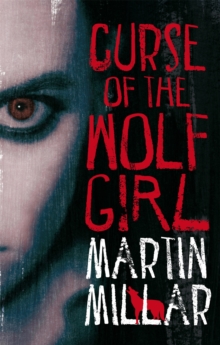 Curse Of The Wolf Girl : Number 2 in series
Paperback
Description
Scottish teenage werewolf Kalix MacRinnalch is in London trying to settle down and live a normal life.
Her new friends support her as she goes to college to learn to read and write, but her old enemies won't leave her alone.
Many powerful werewolves want Kalix dead, and the Guild of Werewolf Hunters is still dedicated to wiping out the entire MacRinnalch werewolf clan.Life might be easier for Kalix if her werewolf family were able to help, but her sister the Enchantress needs all of her sorcerous powers to locate the perfect pair of high heels, her brother Markus is busy in Scotland organising an opera, and her cousin Dominil is engaged in her own merciless vendetta with her enemies.
Kalix must carry on alone but she's finding it difficult enough to pay the rent and cope with her anxiety and depression, while struggling with werewolf hunters and exams at the same time...
Information
Format: Paperback
Pages: 544 pages
Publisher: Little, Brown Book Group
Publication Date: 01/08/2010
Category: Fantasy
ISBN: 9780749942885
Free Home Delivery
on all orders
Pick up orders
from local bookshops
Reviews
Showing 1 - 2 of 2 reviews.
Review by pierthinker
16/06/2015
I am not the guy to write about this book. I am the wrong demographic entirely. I am not sixteen (either literally or one of these 40-somethings who have to act like they are sixteen because they have seen how well it works on Modern Family), I am not a girl and I am not a boy who wants to understand why some girl will not go out with him.Quite funny in the portrayal of fairies as fashion and status obsessed; quite depressing with the awful Kalix, her 'yoof' friends and dysfunctional werewolf family and clan. Is this a reflection of modern family life or a distorted image through the lens of raging hormones?Funny? Enjoyable? In that sick teenager kind of way that makes adults a little queasy.
Review by MikeFinn
16/06/2015
This is the book that gave me the most enjoyment this year.It seems to be in a genre of its own: violent and whimsical, fantastical and grounded in reality, funny and soaked in sadness.This is the second volume in the Kalix series and it is even better than the first. What more can you ask of a sequelIt seems to me the title refers not just to Kalix but to all the female werewolves. They are all cursed in one way or anotherThis is a book bursting with memorable characters and with a plot that makes you want to keep turning the pages (which is just as well -it's a big book)At the heart of this book is a deep understanding of dysfunctional families and the bonds and enmities they harbour and a belief in the power of freely given friendship.My personal favourite in this book is Vex, the fire elemental. At first she seems to be the airhead incarnate but it becomes clear that her optimism is a choice not a habit and that she is loyal and brave as well as being completely off the wall.Kalix remains self-abusive and damaged but she is portrayed with an empathy and compassion that beats anything I've seen in mainstream fictionDo yourself a favour: buy this book and then buy a copy for your best friend – you'll need someone to talk to when you've finished this who will know what it is that you're so excited about.
Also in the Werewolf Girl series | View all