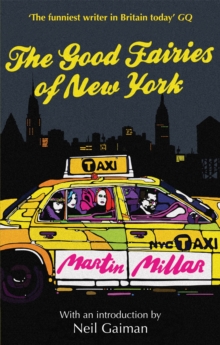 The Good Fairies Of New York : With an introduction by Neil Gaiman
Paperback
Description
Morag and Heather, two eighteen-inch fairies with swords, green kilts and badly dyed hair fly through the window of the worst violinist in New York, an overweight and antisocial type named Dinnie, and vomit on his carpet.
Who they are, how they came to New York and what this has to do with the lovely Kerry - who lives across the street, and has Crohn's Disease, and is making a flower alphabet - and what this has to do with the other fairies (of all nationalities) of New York, not to mention the poor repressed fairies of Britain, is the subject of this book.
It has a war in it, and a most unusual production of Shakespeare's A MIDSUMMER NIGHT'S DREAM and Johnny Thunders' New York Dolls guitar solos.
What more could anyone desire from a book?
Information
Format: Paperback
Pages: 288 pages
Publisher: Little, Brown Book Group
Publication Date: 01/01/2011
ISBN: 9780749954208
Free Home Delivery
on all orders
Pick up orders
from local bookshops
Reviews
Showing 1 - 4 of 4 reviews.
Review by deargreenplace
16/06/2015
I doubt I can write a better synopsis than Neil Gaiman does in the introduction to this book.Morag and Heather are Scottish fairies, who crash into a Lower East Side apartment in New York after an especially excessive night of magic mushrooms, whisky and fiddling (they play fiddles). They can't remember how they got to New York from Scotland, but they determine to make the most of it.Morag moves in with Kerry, an artist with Crohn's Disease who lives across the way from Dinnie, an overweight curmudgeon who is extremely displeased to find two drunk fairies vomiting on his carpet. Nevertheless, Heather decides to stay to help Dinnie whether he likes it or not (he doesn't) and she sets about giving him a make-over and a purpose in trying to win Kerry's heart. Kerry herself is busy competing with her ex - Cal - in a local arts competition to pay him back for breaking her heart (and never teaching her New York Dolls guitar solos as he promised to do).Heather and Morag are comical: foul-mouthed, drunken, bickering and conceited. It's debatable whether Dinnie and Kerry's lives are enriched by their presence. They are also on the run, having cut up a fairy banner into pieces that they could wrap their fiddles in. They're not the only fairies in New York though, and their knack for causing trouble wherever they go eventually leads to a showdown in Central Park, with a guest appearance by Johnny Thunders along the way.Enjoyably different.
Review by gaskella
16/06/2015
"Dinnie, an overweight enemy of humanity, was the worst violinist in New York, but was practicing gamely when two cute little fairies stumbled through his fourth floor window and vomited on the carpet."The opening line from this novel is a cracker. Heather and Morag are the two young fairies in question, with dyed hair and punk kilts. They are friends, but from different Scottish clans and each claim to be the best fiddler in all Scotland. Being wild young things, they've ended up in New York after getting into a scrape with the MacLeods. Heather and Morag are just like many young humans, they like to drink, dance, have fun, eat magic mushrooms – it's just they're only eighteen inches high, have wings, and can't be seen by most humans.They soon fall out, and Morag goes to live with Kerry over the road. Kerry suffers from Crohn's disease, is compiling a Celtic flower alphabet, and loves Johnny Thunders guitar solos. Meanwhile Heather decides that Kerry is the girl for Dinnie, and in exchange for teaching him to play the violin properly, she will get Kerry to fall for the fat slob. Bound up in this central will they, won't they romance being engineered for Dinnie and Kerry, there is the quest for Kerry's missing flower, the ghost of Johnny Thunders looking for his old guitar, and unrest amongst the fairies back in Cornwall, not to mention the legendary McPherson violin. Heather and Morag also manage to upset all the other fairy tribes in the city at some stage with their high-spirited feud.This novel is great fun, and it's choc-a-block full of energy. The young fairies, in their youthful acts of rebellion, bring chaos and anarchy to the Big Apple in a fast moving, raunchy and comic romp. The Neil Gaiman endorsement caught my eye, and while it's fair to say I didn't love it as much as he does, it was a jolly good read. (8/10) NB: Strong language etc.
Review by ablueidol
16/06/2015
Clumsy writing but clever story - perhaps better when a film?
Review by emcnicho
16/06/2015
it is getting a little tiresome. I suspect that if you knew New York it might be a little better.