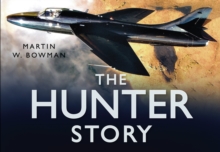 The Hunter Story
Hardback
Description
One of the world's greatest aircraft, for three decades pilots enthused about the Hunter and its smooth lines, Rolls-Royce Avon engine, outstanding handling characteristics and lively performance.
Designed by Sir Sydney Camm, the genius behind the Hurricane, work on the Hunter commenced late in 1948, but the post-war economic situation in Britain delayed its first flight until 20 July 1951.
In September 1953 Neville Duke piloted a Hunter to shatter the world speed record. This book traces the history of the Hunter across RAF and worldwide service, from design and development to the glory days and the unforgettable aerobatic displays with the Black Knights, Black Arrows and Blue Diamonds.
A real pilot's aeroplane, the Hunter reigned supreme for fifty years, with the last example retired in July 2001.
Information
Format: Hardback
Pages: 128 pages
Publisher: The History Press Ltd
Publication Date: 01/06/2009
Category: Military aircraft
ISBN: 9780752450827