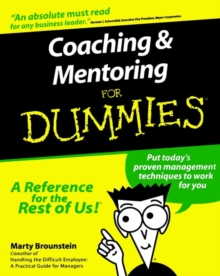 Coaching and Mentoring For Dummies
Paperback / softback
Description
"An absolute must read for any business leader." Norman J.
Schoenfeld, Executive Vice President, Meyer Corporation Praise for Coaching & Mentoring For Dummies(R) "I put the skills presented in Coaching & Mentoring For Dummies into practice and it's the smartest management decision I've ever made!
The material contained in this book works!" - Dennis J.
Sparacino, Recreation Services Deputy Director, City of Fremont Put today's proven management techniques to work for you Your game plan for building employee morale and commitment Find out the benefits of coaching over traditional management So you want to create a lean, mean, working machine?
Discover how to inspire employees and get results. From tried-and-true worksheets to tools that you can tailor to your own situation, this friendly guide helps you call all the right plays for a big win! Discover how to: Use questions rather than commands Be a delegator, not a doer Complete performance reviews without anxiety Grow your employees' talents Increase productivity; decrease turnover Get smart! www dummies.com Register to win cool prizes Browse exclusive articles and excerpts Get a free Dummies Daily e-mail newsletter Chat with authors and preview other books Talk to us, ask questions, get answers