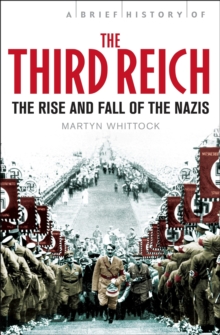 A Brief History of The Third Reich : The Rise and Fall of the Nazis
Paperback
Description
Beginning in the broken aftermath of the First World War and the Treaty of Versailles that made German recovery almost impossible, Whittock tells not just the account of the men who rose to the fore in the dangerous days of the Weimar republic, circling around the cult of personality generated by Adolf Hitler, but also a convincing and personality-driven overview of how ordinary Germans became seduced by the dreams of a new world order, the Third Reich.
The book also gives a fascinating insight into the everyday life in Germany during the Second World War and explores key questions such as how much did the Germans know about the Holocaust and why did the regime eventually fail so disastrously?
Information
Format: Paperback
Pages: 368 pages
Publisher: Little, Brown Book Group
Publication Date: 20/11/2006
Category: European history
ISBN: 9781849012997
Free Home Delivery
on all orders
Pick up orders
from local bookshops
Reviews
Showing 1 - 1 of 1 reviews.
I have a fair memory of German history from school, things like the Weimar republic, the Treaty of Versailles, the Reichstag fire and Kristallnacht, which were all things this book touched on, but what I really found interesting were the parts about day to day living in a Germany that saw the end of Weimar and the rise and fall of the Third Reich. The chapter on the role of women was a real insight. The Nazi agenda was to make the woman's concern limited to <I>kinder, küche, kirche</I>, and this didn't seem to dampen the support of women voters. If I'm recalling correctly, the female vote was quite important, even though opportunities for women were of little concern.<br/><br/>There's a lot in this book which is appalling and shocking and yet a moment later I'd find myself thinking that maybe it wasn't so appalling and shocking, knowing what we know about the concentration camps, the final solution and Hitler's general fucknuttery. I suppose the worst thing about reading this book was an overpowering sense that humans are easy to coerce into a mindset of compliance if they are given a good enough reason, like a greater good, a better future and protection from community outsiders who would do us harm or infect our way of life. <br/><br/>The Nazi regime certainly isn't history's first example of the worst of humanity, but they were definitely gunning for the position of history's most unforgettable evil fucks. A gold medal to them on that and a bronze for the countries who were too busy dithering about to act quickly. <br/><br/>It's a good read about a very sad episode in human history. I'm glad I read it.
Also in the Brief Histories series | View all