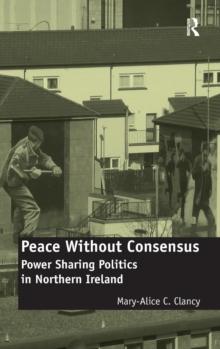 Peace Without Consensus : Power Sharing Politics in Northern Ireland
Hardback
Description
'Peace Without Consensus' demonstrates that the rise of Sinn Fein and the Democratic Unionist Party (DUP) was not 'inevitable'.
Rather, it argues that critics who blame Northern Ireland's power-sharing institutions for the electoral triumph of the political 'extremes' in 2003 have not fully considered how the US, British and Irish governments contributed to this outcome.
Through interviews with key US, British and Irish officials this groundbreaking analysis, which represents the first examination of the Bush administration's vital role in the peace process, demonstrates that Washington and Dublin were considering a deal between the DUP and Sinn Fein as early as 2002. Profiled in the Guardian, the Observer, BBC Radio Four, the Irish Independent and in Henry McDonald's 'Gunsmoke and Mirrors', Mary-Alice C.
Clancy's theoretically informed and empirically grounded book presents new and salient lessons for other regions embroiled in conflict and should be read by all those interested in Northern Ireland's peace process and US foreign policy.
Information
Format: Hardback
Pages: 232 pages
Publisher: Taylor & Francis Ltd
Publication Date: 28/07/2010
Category: Politics & government
ISBN: 9780754678311