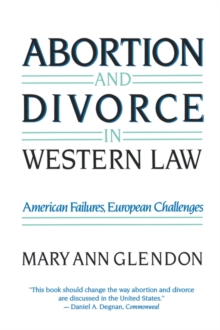 Abortion and Divorce in Western Law
Paperback / softback
Description
What can abortion and divorce laws in other countries teach Americans about these thorny issues?
In this incisive new book, noted legal scholar Mary Ann Glendon looks at the experiences of twenty Western nations, including the United States, and shows how they differ, subtly but profoundly, from one another.
Her findings challenge many widely held American beliefs.
She reveals, for example, that a compromise on the abortion question is not only possible but typical, even in societies that are deeply divided on the matter.
Regarding divorce, the extensive reliance on judicial discretion in the United States is not the best way to achieve fairness in arranging child support, spousal maintenance, or division of property-to judge by the experience of other countries.
Glendon's analysis, by searching out alternatives to current U.S. practice, identities new possibilities of reform in these areas.
After the late 1960s abortion and divorce became more readily available throughout the West-and most readily in this country-but the approach of American law has been anomalous.
Compared with other Western nations, the United States permits less regulation of abortion in the interest of the fetus, provides less public support for maternity and child-rearing, and does less to mitigate the economic hardships of divorce through public assistance or enforcement of private obligations of support. Glendon looks at these and more profound differences in the light of a powerful new method of legal interpretation.
She sees each country's laws as part of a symbol-creating system that yields a distinctive portrait of individuals, human life, and relations between men and women, parents and children, families and larger communities.
American law, more than that of other countries, employs a rhetoric of rights, individual liberty, and tolerance for diversity that, unchecked, contributes to the fragmentation of community and its values.
Contemporary U.S. family law embodies a narrative about divorce, abortion, and dependency that is probably not the story most Americans would want to tell about these sad and complex matters but that is recognizably related to many of their most cherished ideals.
Free Home Delivery
on all orders
Pick up orders
from local bookshops