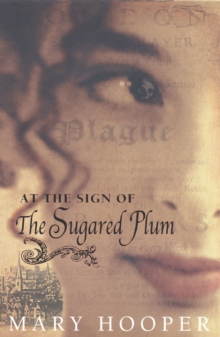 At the Sign of the Sugared Plum
Paperback
Description
'You be going to live in the city, Hannah?' Farmer Price asked, pushing his battered hat up over his forehead. 'Wouldn' t think you'd want to go there Times like this, I would have thought your sister would try and keep you away.' Hannah is oblivious to Farmer Price's dark words, excited as she is about her first ever trip to London to help her sister in her shop 'The Sugared Plum', making sweetmeats for the gentry.
Hannah does not however get the reception she expected from her sister Sarah.
Instead of giving Hannah a hearty welcome, Sarah is horrified that Hannah did not get her message to stay away - the Plague is taking hold of London.
Based on much research, Mary Hooper tellingly conveys how the atmosphere in London changes from a disbelief that the plague is anything serious, to the full-blown horror of the death carts and being locked up - in effect to die - if your house is suspected of infection.
A brilliant new departure from this best-selling author. "Mary Hooper is another writer to watch" The Independent
Information
Format: Paperback
Pages: 176 pages
Publisher: Bloomsbury Publishing PLC
Publication Date: 04/08/2003
Category: Historical fiction
ISBN: 9780747561248
Free Home Delivery
on all orders
Pick up orders
from local bookshops
Reviews
Showing 1 - 3 of 3 reviews.
Review by joririchardson
16/06/2015
I loved this book. Everything about it is good - but what really made me love it is the engaging way it is written and how realistic it is. Everything the author describes is interesting and vivid, especially the historical setting of 1665 London. Mary Hooper seems to grasp perfectly the art of turning potentially dull scenes in books (the main character working at her sister's shop, walking the streets, and so on) into beautifully written portraits of daily life. The result is a fascinatingly vivid and lifelike book.The plot is excellent as well, about the Black Plague in Europe.A great book! There is a sequel as well, called "Petals in the Ashes."
Review by helenleech
16/06/2015
Children's book. Hannah goes to visit her sister Sarah, who runs a sweet shop in London. But this is the 16th century, and the Black Death is also visiting. Hannah recounts what it's like, trapped in the city, as the plague comes closer and closer.
Review by JanaRose1
16/06/2015
This is a young adult/middle school book. Hannah travels to London in 1665 to help her sister, Sarah, run a sweetmeats shop. Shortly after arriving she realizes that the bubonic plague has begun to take hold in the poorer areas of the city. Slowly the plague travels throughout all of London, until Hannah and Sarah find nearby houses being shut up and neighbors dying. I found this book to be utterly fascinating. Sarah and Hannah were well developed characters and the plot line moved at a good pace. Overall, I think that teenage girls would appreciate the book more than teenage boys, purely because of the in depth discussion of making sweetmeats and fashion. I highly enjoyed this book and will recommend it to others.